Vinchin Blog
Vinchin × Sangfor | Elevate Your Business Protection with Vinchin and Sangfor
Vinchin × Sangfor | Elevate Your Business Protection with Vinchin and Sangfor
2021-09-15 | Charley
On Mar.17, 2021, Vinchin, as one of Sangfor's partners and an independent backup software vendor for Sangfor HCI, we held a joint webinar with Sangfor to discuss product optimization, and we are pleased to discover more about related technical issues together with you.

In this webinar, we invited Cheney Hu, the Product Manager at Sangfor, and Luwen Zhang, the Product Manager at Vinchin, to share information about how to elevate business protection with Vinchin and Sangfor.
What we talked about in this webinar includes the introduction to Vinchin Backup & Recovery and its key features, along with the backup solution scenarios and backup and recovery strategies for Sangfor HCI by Luwen Zhang.
Cheney Hu introduced Sangfor HCI to help you have a better understanding of the product and how it works to run business without complexity and worry.
In addition to this, we also provided a live Demo show and live Q&A for you, and there must be something you want to know too!
Let's get a short review of this webinar here!
Introduction to Vinchin Backup & Recovery
Vinchin Backup & Recovery is an innovative VM backup solution that supports up to 10 mainstream virtual platforms, including Oracle Linux Virtualization Manager, Red Hat Virtualization, oVirt, VMware vSphere, MS Hyper-V, OpenStack, Citrix Hypervisor, XCP-ng, Huawei fusion compute, and Sangfor HCI.
Today we will focus on how Vinchin Backup & Recovery works with Sangfor HCI.
Key Features
l VM Backup Feature Highlights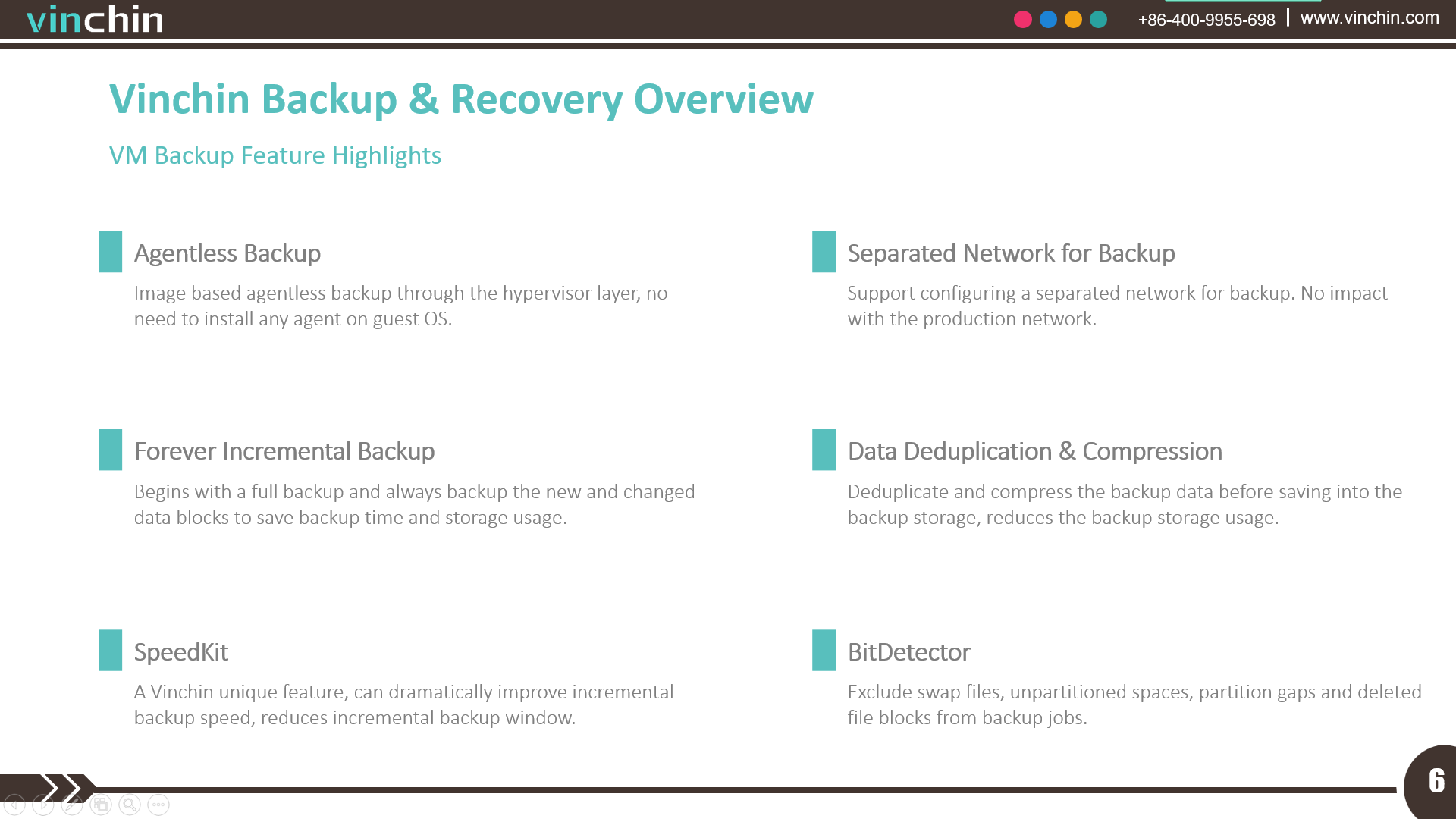 Agentless backup, separated network for backup, forever incremental backup, data deduplication and compression are all supported with Sangfor HCI.
As a Vinchin unique feature, SpeedKit can work as an alternative to CBT for fast incremental backups.
While data deduplication and compression help to reduce backup storage usage, the BitDetector can bring higher performance by excluding swap files, unpartitioned spaces, partition gaps, and deleted file blocks from the backup jobs.
l VM Restore Feature Highlights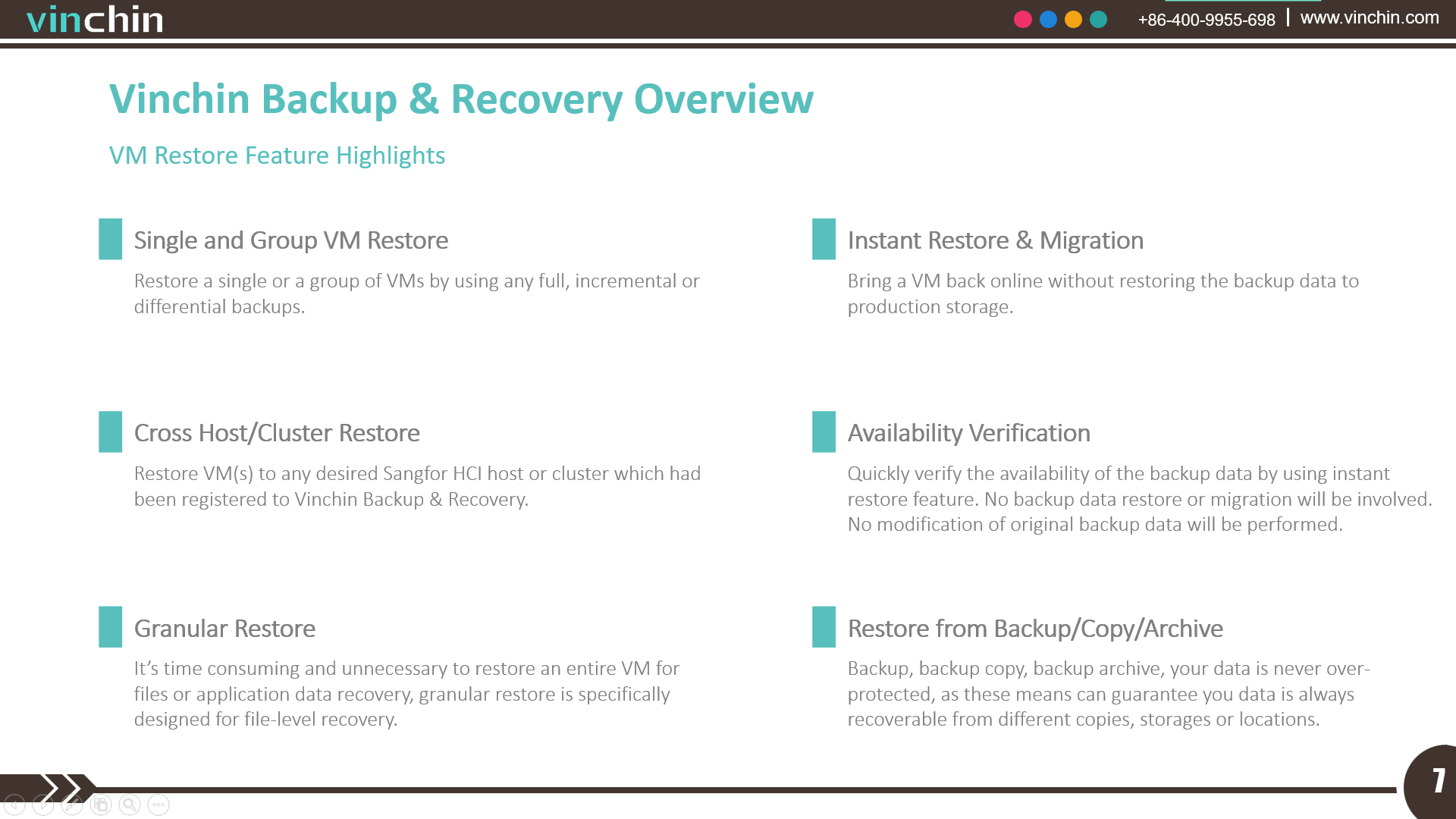 Here are some feature highlights of VM restore.
The restore of VMs on Sangfor HCI is also flexible, users can restore a single VM or a group of VMs at a time, and the VMs can be restored to different Sangfor HCI host or cluster.
By using the granular restore feature, users can restore the VM from file-level instead of restoring a whole VM.
For some service critical VMs, instant restore feature can help bring up a VM in a minute, and with this feature, users can also quickly verify the backup data availability.
And besides the backup data, VMs can also be restored from backup copy data and the archive data. This can guarantee your VMs are always recoverable from different copies, storages or locations.
Sangfor HCI Solution Scenarios
l Basic Deployments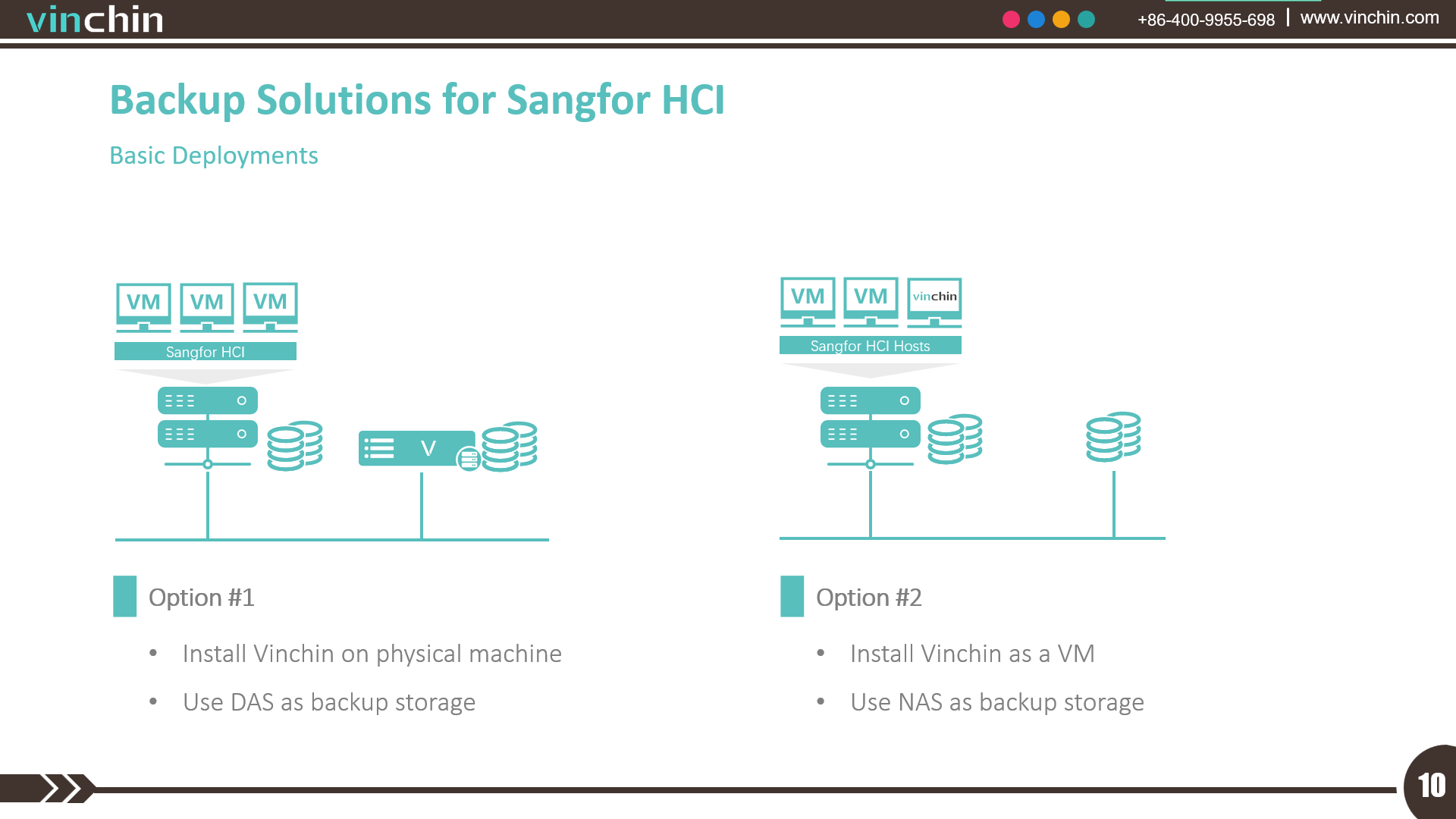 Here are two basic deployment scenarios for backing up small-size Sangfor HCI.
Vinchin Backup & Recovery can be either installed on a physical machine or installed as a VM on Sangfor HCI.
l Backup & Recovery over Backup Network
Excepting backing up through line, Sangfor HCI can also be backed up through separated backup network.
Based on this, the high efficiency backup and recovery process can minimize the backup time window, and users can deploy backups more frequently to achieve shorter RPOs.
l Distributed Deployment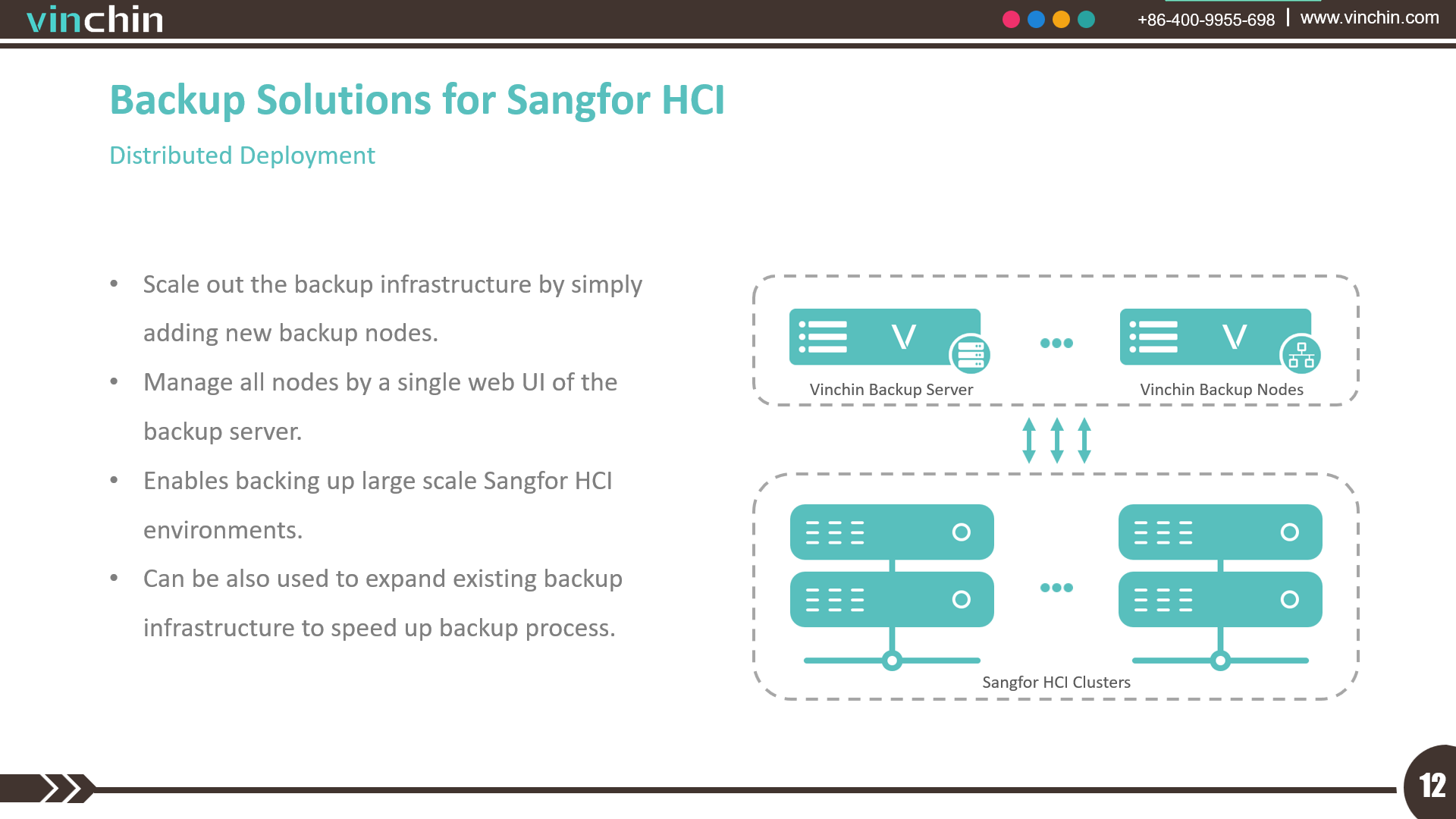 The distributed deployment can be applied with medium to large Sangfor HCI environments.
It also ensures the scalability of the backup infrastructure and future growth of your business and Sangfor HCI.
All the backup nodes will be managed within the unified web interface of Vinchin backup server. And adding the backup nodes will neither require extra license fees nor add any complexity of management or maintenance of your backup infrastructure.
l Offsite Copy for DR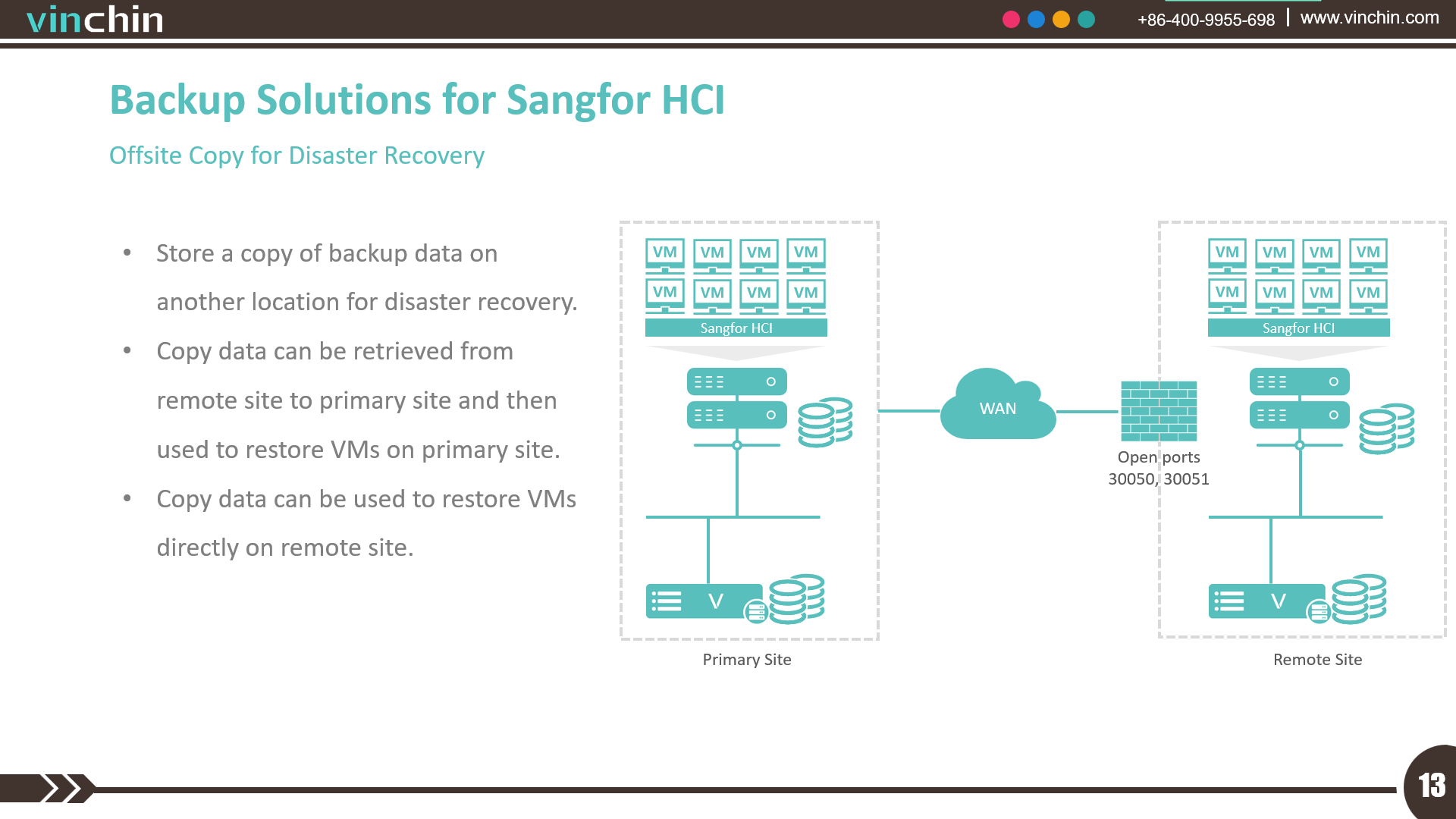 The offsite copy feature can be used for disaster recovery.
Another Vinchin backup server can be deployed on the remote site for storing a copy of your backup data from the primary site to the remote site for DR. Both sides can be connected through internet or dedicated VPN connection.
In case any disaster took place and the primary site had been destroyed, you have the option to restore VMs of the primary site to the remote site virtual infrastructure to bring your business back online.
And after the rebuilding of the primary site, you can retrieve the copy data back to the primary site and then restore the original VMs.
l Cloud Archive for Disaster Recovery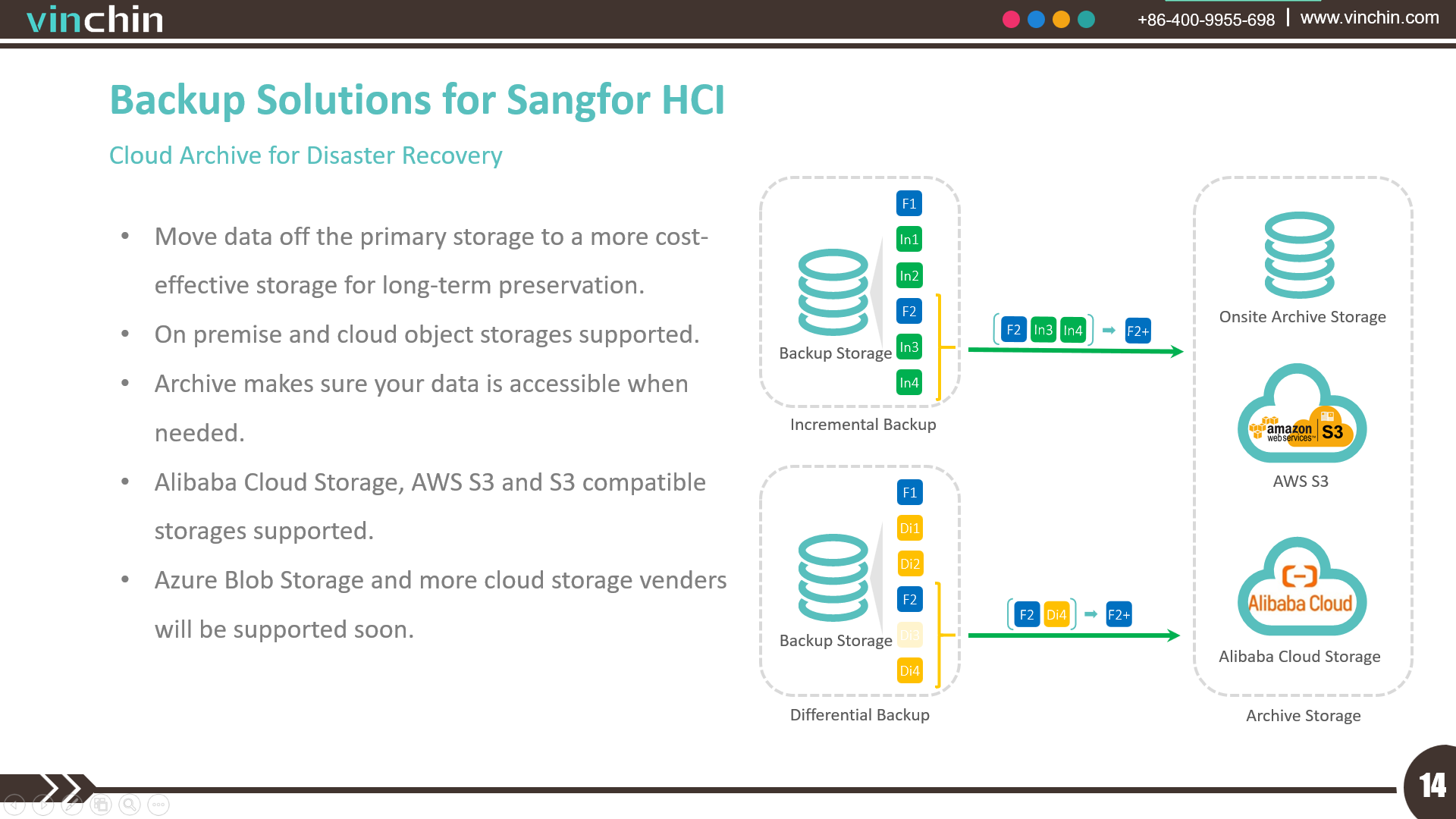 The backup archive can be used to archive your data to more cost-effective storage for long term preservation and cloud DR. The data which is no longer been used or inactive but still has business values can be archived, and it makes sure your data is accessible when needed.
When deploying backup archive jobs, your latest backups will be organized as a new full backup and saved to the archive storage no matter there're originally full, incremental or differential backups. So it is different from the backup copy feature, as the backup copy will replicate a copy of the backup data to the onsite or offsite copy storage. But in the archive storages, only full backups will be saved.
We currently support Alibaba cloud storage, AWS S3 and S3 compatible storages. Azure Blob Storage and more cloud storage venders will be supported soon.
Backup Strategies for Sangfor HCI
l The forever incremental backup strategy.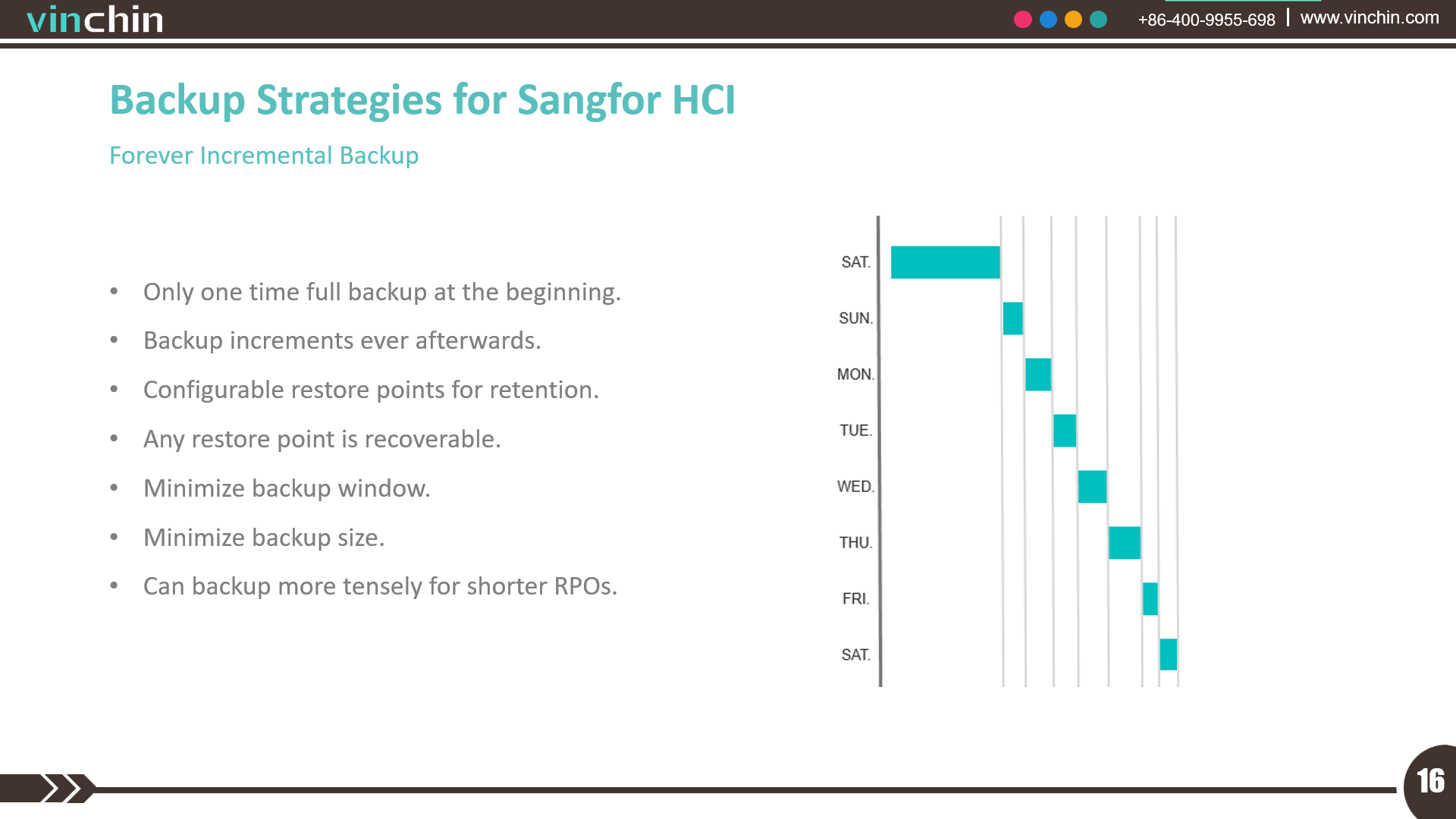 A full backup will be performed only once at the very beginning, and the future backups will always be incremental, and will always back up the new and changed data blocks.
This can significantly reduce the time it takes for backing up and also reduces the backup storage space usage.
l SpeedKit for efficient incremental backup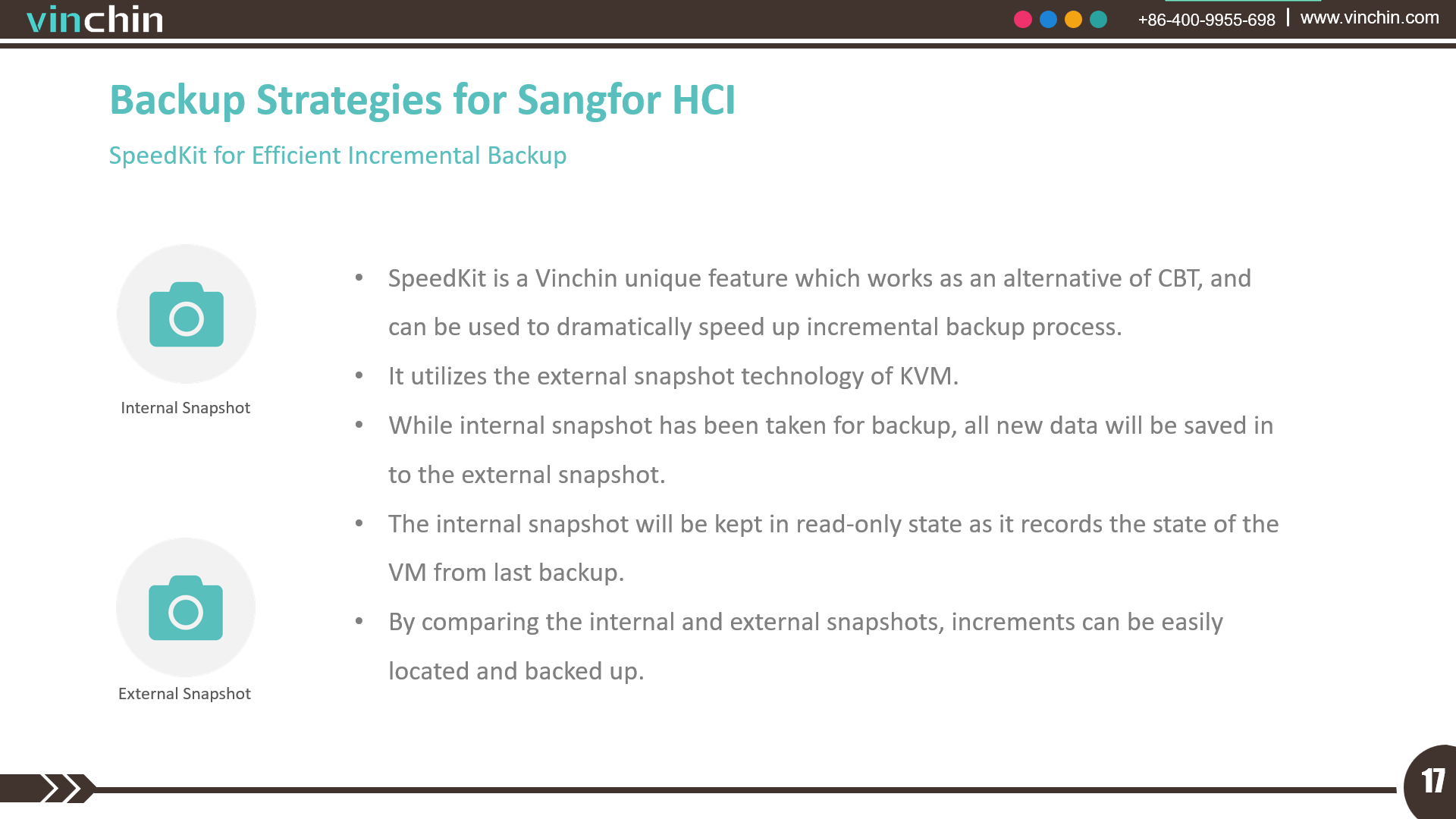 SpeedKit is a Vinchin unique feature which works as an alternative of CBT, and can be used to dramatically speed up incremental backup process, which utilizes the external snapshot technology of KVM virtualization.
While an internal snapshot has been taken, it will be kept in read-only state to record the current state of VMs. All new data will be saved into an external snapshot, so when next time you run incremental backup, by comparing the internal and external snapshots, increments can be easily located and backed up.
The advantage of SpeedKit is that it can increase the speed up incremental backup for 10X times, but it requires snapshots to be kept in the production storage. So if you have sufficient storage, SpeedKit is a good choice for faster incremental backups.
l Deduplication and Compression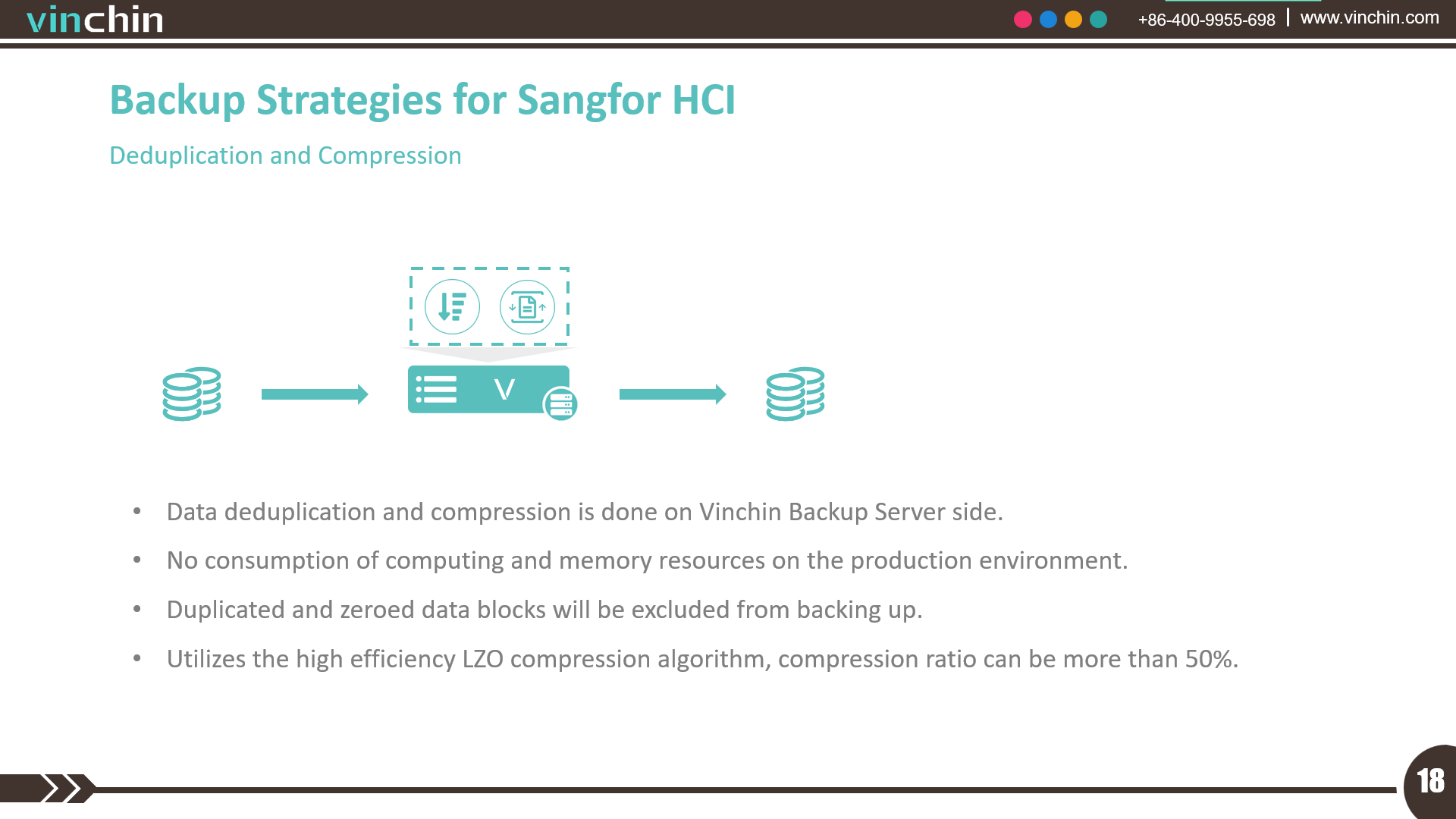 Deduplication and compression can be used to reduce the backup data and save backup storage usage.
The deduplication and compression process are mainly conducted by Vinchin backup server and it will not consume the computing and memory resources on the production environment.
The duplicated and zeroed data blocks will all be excluded from backing up, and the compression is done by using the high-efficiency LZO algorithm, the compression ratio can be more than 50 percent.
l BitDetector for further data reduction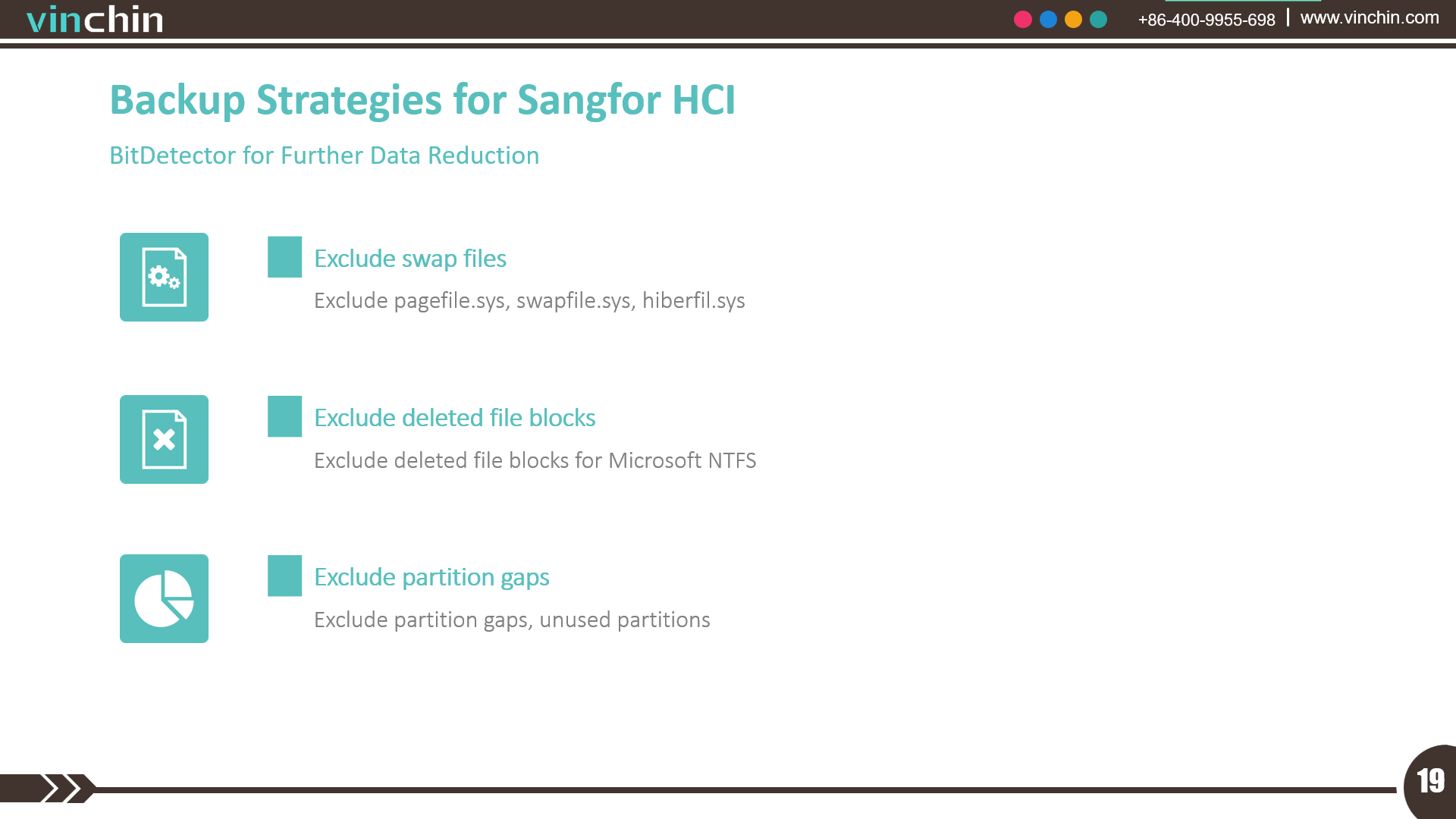 BitDetector is also a unique Vinchin feature. It consists of exclude swap file, exclude deleted file blocks and exclude partition gaps from backing up, which can further help to reduce the backup size.
Recovery Strategies for Sangfor HCI
l Efficient Restore Process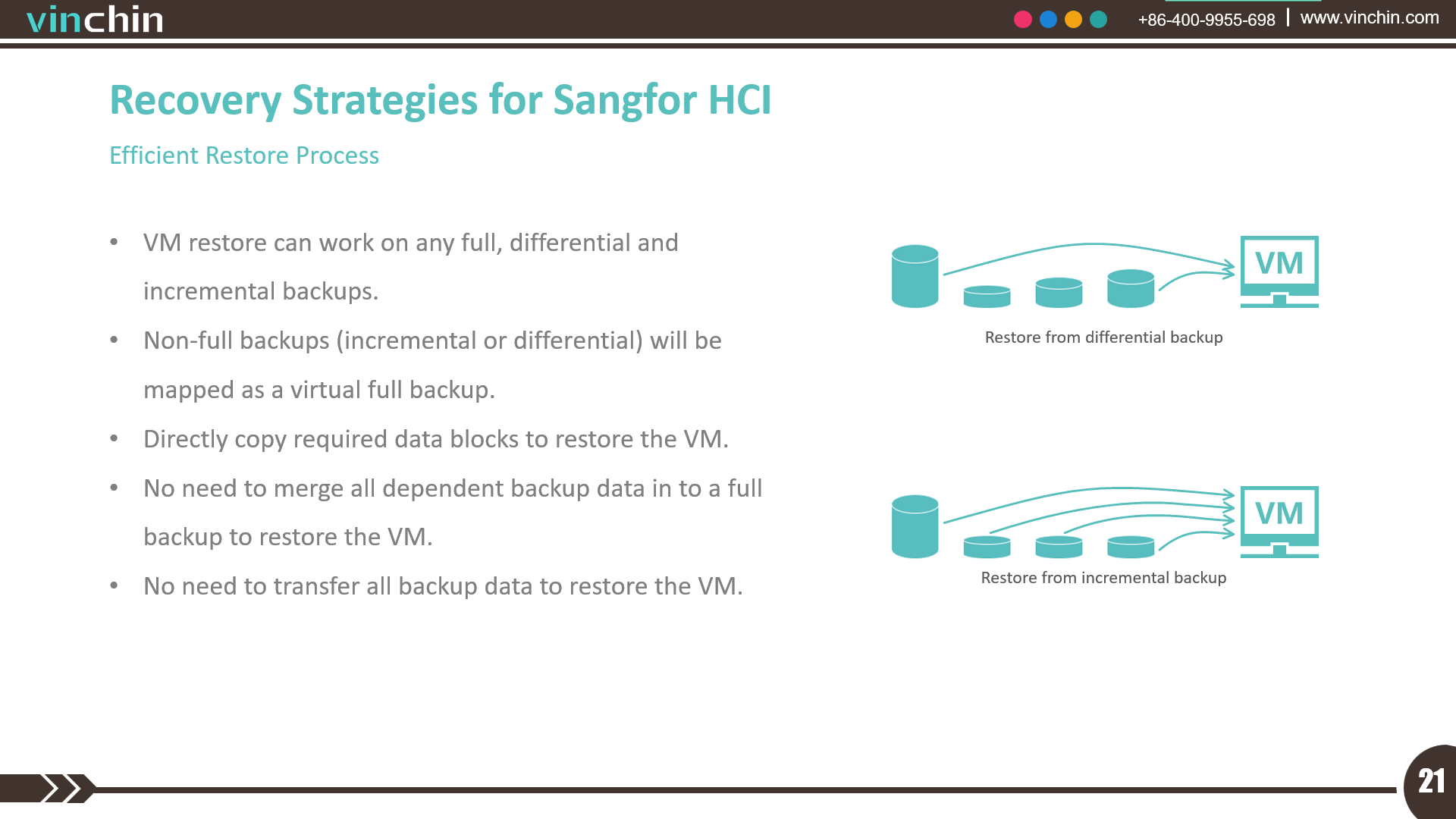 With Vinchin Backup & Recovery, the restoration of VMs works with any full, incremental or differential backups.
Vinchin backup server will only copy the required data blocks from all types of backups to restore the VM. So no matter it's full backup or non-full backup, the process of restoration is the same, and no extra time will be taken to merge the non-full backups into a full backup to restore the VM.
l Granular Restore-Restore VMs from File Level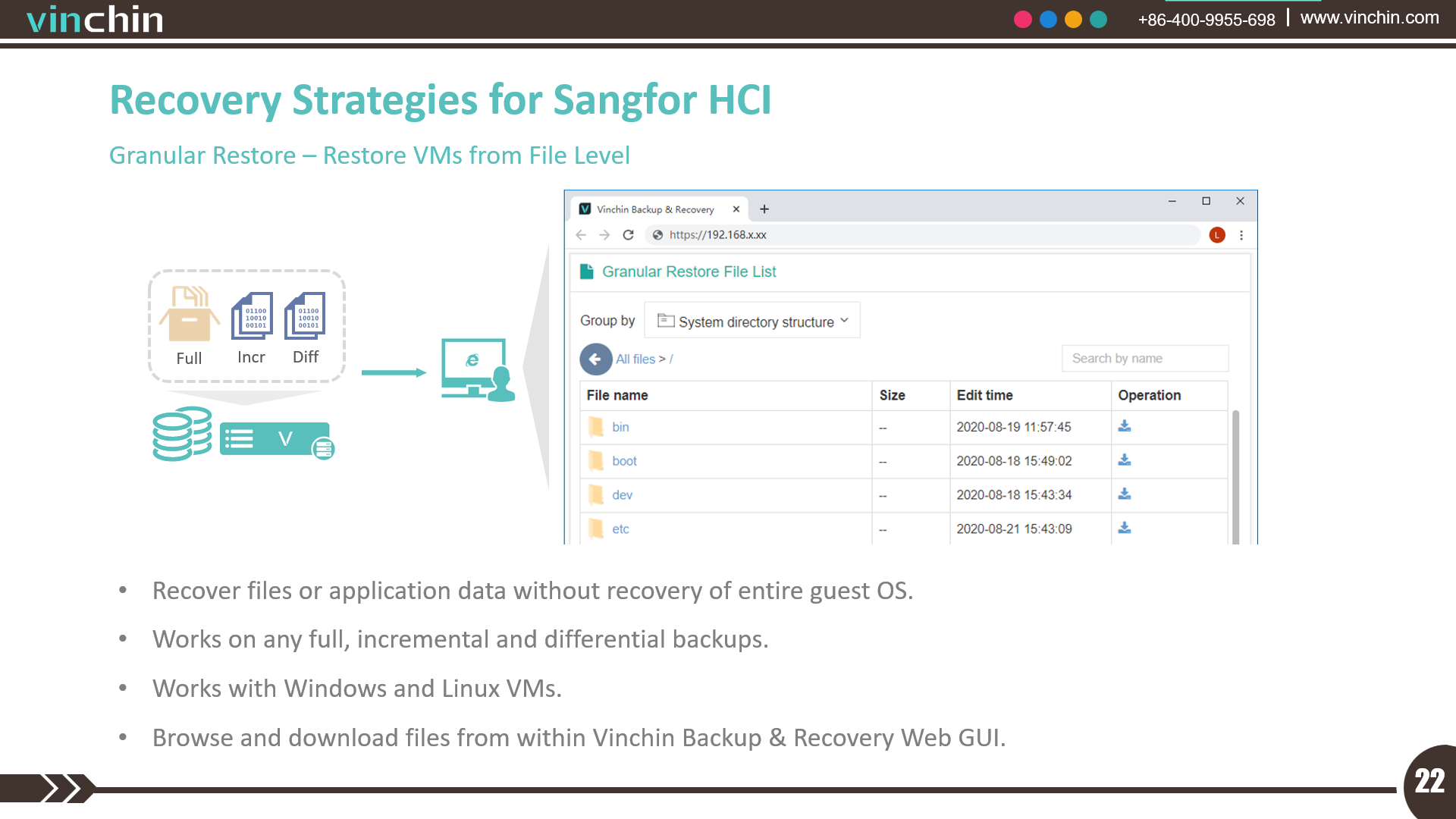 Granular restore is a useful feature to restore your VMs at file level. In most cases, when a VM needs to be restored is because of files or application data being accidentally deleted. It is time-consuming and unnecessary to restore the whole VM for the files or data.
Under such situation, the granular restore feature will help.
When running a granular restore job, users can browse and download files or folders to restore the required data from within Vinchin Backup & Recovery Web GUI.
The granular restore feature also works with full, incremental, and differential backups. So you can restore files from any desired time point.
l Instant Restore and Migration-Bring VM Back Online within a Minute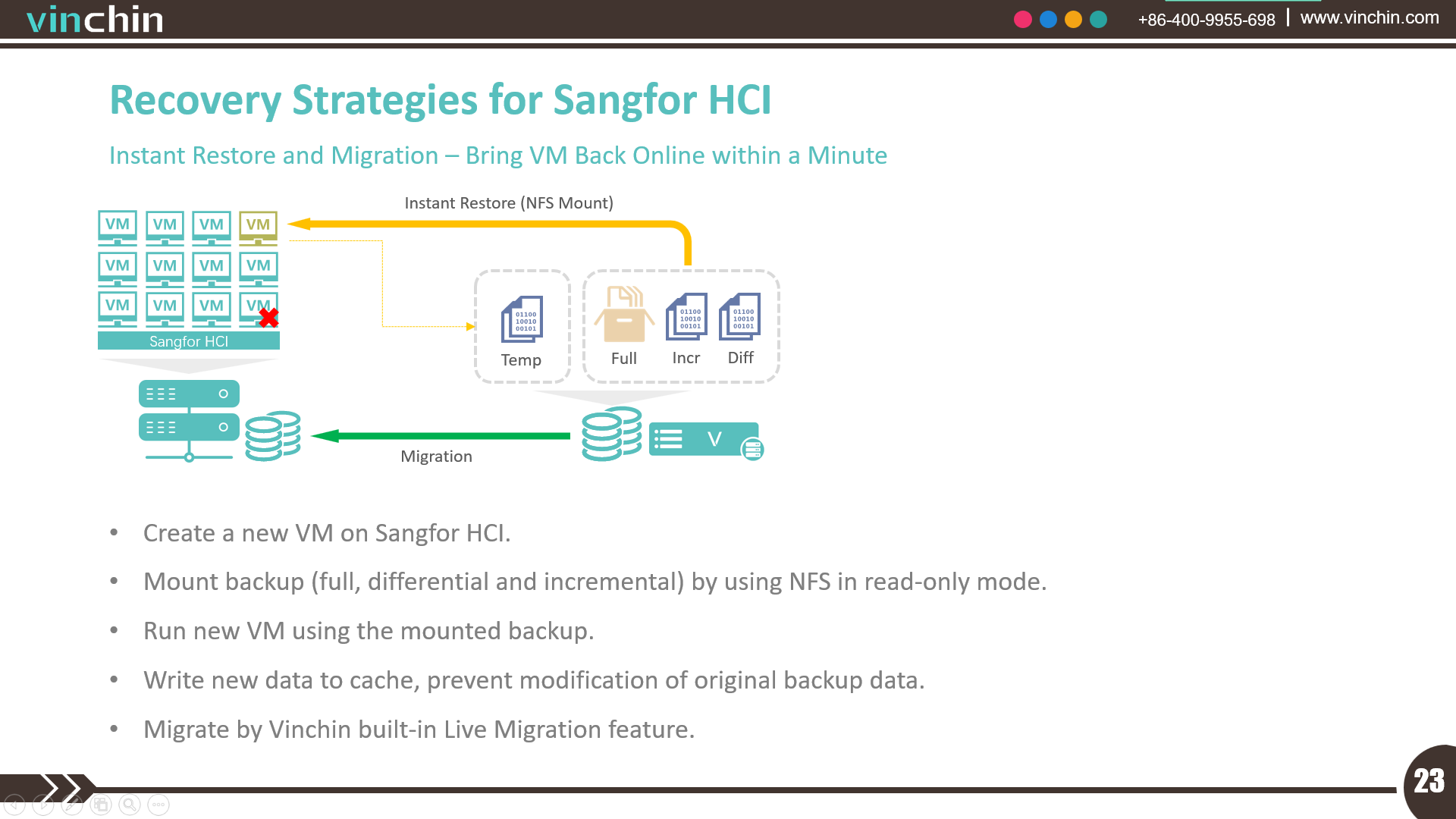 Instant restore is another important VM restore feature that can be used in some emergency situations to bring your business-critical service back up online in a matter of minutes.
It uses the API of Sangfor HCI to create a virtual machine and then mount the backup data to the virtual machine by using NFS protocol.
The newly created virtual machine will only load the required data by starting up the operating system and its services so that the instant restore process could be completed in a very short time.
And at this time, the backup data is still inside the backup storage. So during the non-business hours, you can choose to migrate all the backup data to the production storage to complete the whole restore process.
As we know that Sangfor HCI has a built-in virtual machine migration feature, but for instant restore, it is recommended to use the live migration feature of Vinchin backup server, as the original backup is mounted in read-only mode, so there will be a cache created on the backup storage to save the new data during the running time of instant restore of VM.
The migration will be performed in three stages.
On stage 1, the original backup data will be migrated.
On stage 2, the cache data will be migrated.
On stage 3, the instant restored VM will be powered off if the migrated VM is configured to start up automatically, and then the cache data generated during the powering off of the virtual machine will be migrated.
After these 3 stages of data migration, the consistent state of the virtual machine can be guaranteed.
l Advanced Recovery-V2V
All the backups from other virtualizations supported by Vinchin can be directly recovered to Sangfor HCI.
This feature can help customers to migrate other virtualizations to Sangfor HCI easily and smoothly, and reduce tons of work compared to using third-party migration solutions.
V2V feature will be available in the new version of Vinchin Backup & Recovery to be released in Q3. And besides this, more innovative features will also be brought out.
For more details of this webinar, like what content Cheney had referred to, what the live demo had shown, and what questions had been asked and answered during the time, please see the webinar video recording.
We hope you can discover what you want here and also look forward to the next meet.
Follow us on Social media to keep tuned for our future webinars! See you next time!
I agree that Vinchin can contact me by email to promote their products and services. I can unsubscribe at any time.
Thanks for subscribing! A confirmation mail has been sent to your mailbox, please check within 48 hours.
Get more ideas from Vinchin