Vinchin Blog
NAS vs Server | Differences between Them and the Backup Methods
NAS vs Server | Differences between Them and the Backup Methods
2023-04-25 | Viego
Are you looking for a robust backup solution for NAS or Server? Try Vinchin Backup & Recovery!
NAS and serve are important hardware in companys' datacenters. You can have a further understanding of NAS and server to better deploy and manage your IT environment.
What is NAS?
NAS, Network-Attached Storage, is a kind of common storage device in companies to store all kinds of files, like media files, CAD files, unstructured data, etc., host web applications and deploy systems like ERP and OA. The popular NAS brands include Synology, QNAP, Buffalo, etc.
It is easy to deploy and use in companies' IT environments, not requiring the input devices like mouse or keyboard. After simple deployment, multiple users can access it via the Internet. One of the reasons why it becomes more and more popular is that it makes teamwork and remote work convenient. Companies like it also because it is affordable and easy to deploy, especially for small businesses where there are very likely no IT experts.
Like PC and server, NAS also has hardware like CPU and network interface but as a storage device, its storage is what companies value the most. NAS often means high capacity, more than 4 TB and IT administrators can also expand the capacity later by replacing the hard drive.
Because you can access NAS everywhere, it is like your private cloud. Compared with the public cloud, it can be faster and cheaper.
One of the benefits of the public cloud is that they often provide internal data backup solutions but for the on-premise private cloud, you need to find a backup solution on your own. Vinchin Backup & Recovery can help you easily backup NAS devices.
Because NAS is used to store files in the cloud, it is also called file server but there are some differences between them.
What is server?
Server often means the physical server which is not fresh in companies. It provides powerful performance to support all kinds of business systems. Physical server can be also divided into multiple virtual servers after a hypervisor is installed on it.
Because different servers support different services, there are mail server, ftp server, DHCP server, DNS server, etc.
There are always growing files in companies so that some of the servers are used as file servers to store, share and retrieve files. As it is used for sharing files, it allows the access of multiple users via LAN or the Internet.
File server can be installed with Windows or Linux operating system to deploy applications. Because it is a server, sometimes it is also used to support certain systems or for other purposes to not waste its performance but this will influence file storage and sharing more or less.
It looks very similar to NAS so what are the differences between them?
NAS vs file server
For their features, there are some similarities and difficulties:
Similarities
Both NAS and file server can provide large capacity for storing and sharing data and they can be accessed by multiple users for teamwork. Because they can be also accessed via the network, they can help users work remotely. IT administrators can expand their capacity to store more data.
Differences
File server is more powerful than NAS because it often has better hardware so it can be also used to support other services like a common server at the same time. NAS is not so powerful as file server but it is made for storing files so it is better at storing data.
File server has better hardware so that it could be more expensive than NAS and it will be more complicated to deploy and maintain file server.
NAS often has a built-in NAS operating system but file server needs a operating system like Windows and Linux.
Which one is better for you?
As you can see, both NAS and file server can be used as storage for companies so how to choose between them?
If you don't want to learn complicated technical knowledge and want to cost less money, you can select NAS to store data.
If you have enough budget and knowledge, you can deploy a file server. If you have redundant hardware resources, you can directly select file server.
In a word, choose the one that you can afford and operate.
Don't forget to backup NAS and file server
NAS and file server might contain important business data and they are easily targeted by attackers so companies should backup NAS and file server in case of data loss.
Vinchin Backup & Recovery is a professional enterprise backup and disaster recovery solution to help companies easily protect IT environment via a user-friendly web console.
To backup NAS, you just need to add the NAS to the backup system> select folders or the entire NAS > select the backup destination (which can be another NAS) > select backup strategies (schedule, incremental backup, data compression, etc.) > confirm the backup job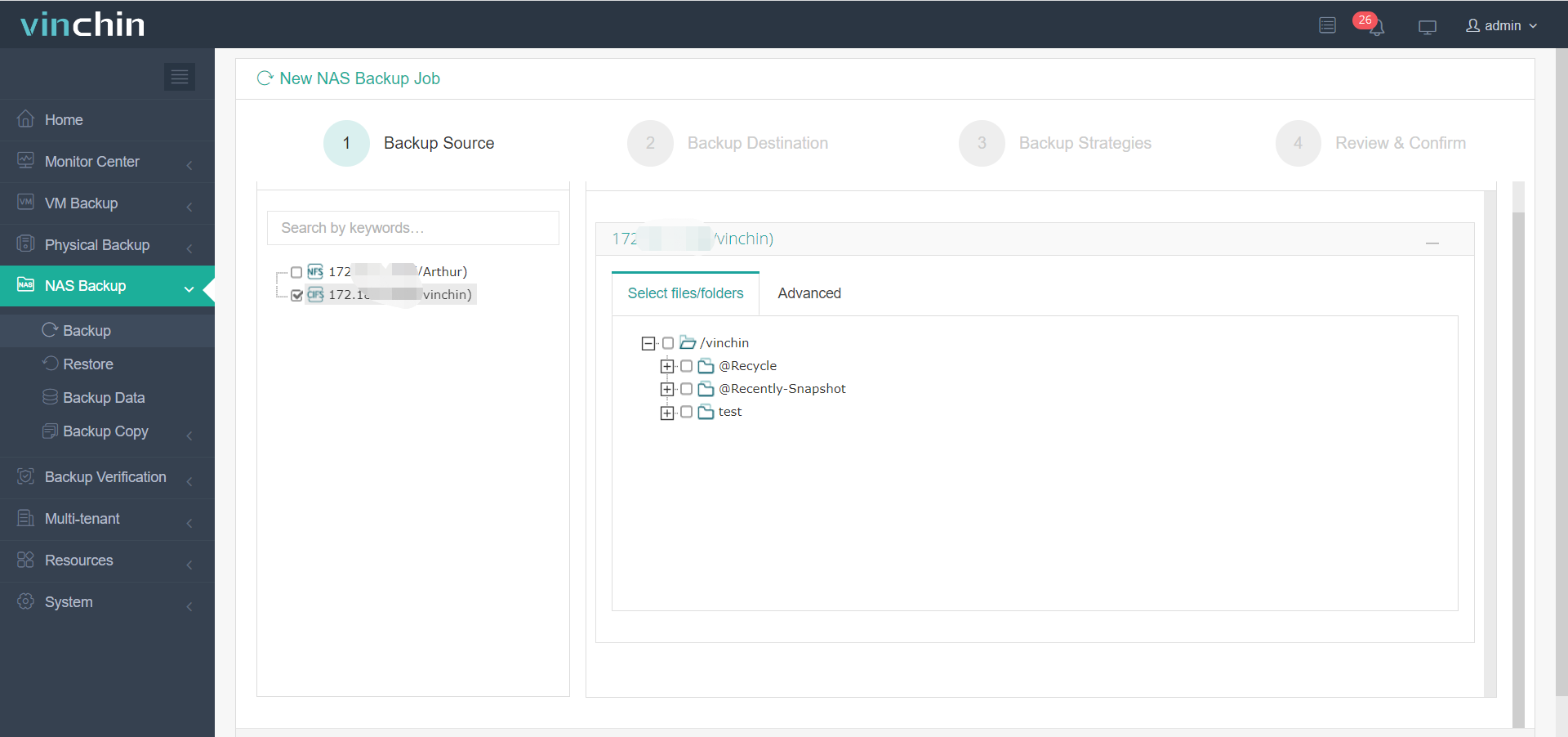 To backup file server, you can add a physical server to the backup system by installing an agent on it or add a virtual server by adding its host (agentless backup) > select parttions or the entire server as backup source > select the backup destination > select backup strategies (schedule, incremental backup, data compression, etc.) > confirm the backup job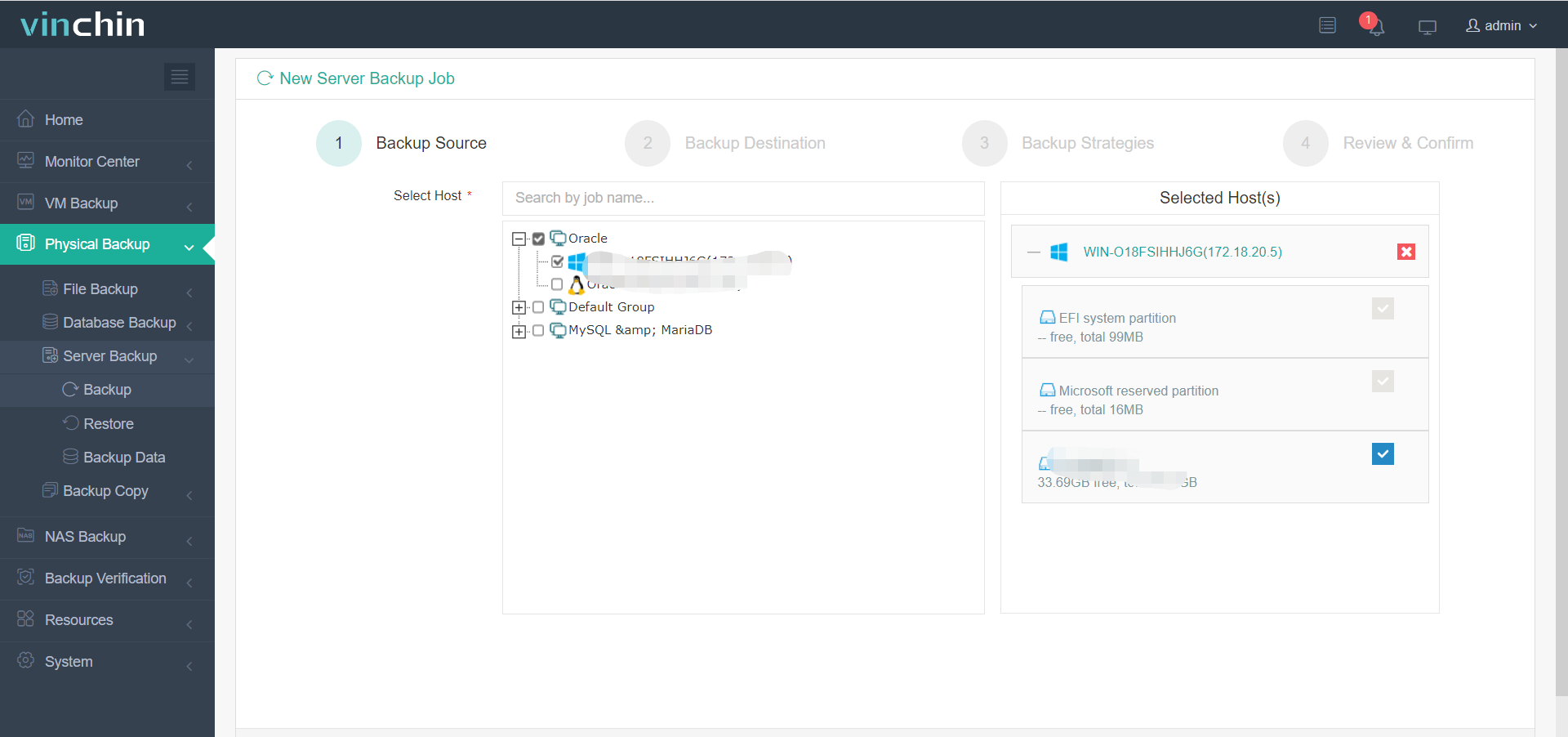 Vinchin Storage Protection can effectively prevent backup storage from being tampered by ransomware so that your data backup will be save. Vinchin Backup & Recovery has helped many of our users recover from ransomware attack.
You can start a 60-day full-featured free trial to see how brilliant it is to protect your IT environment. Just click the button to get the installation package.
Sum Up
Both NAS and file server are often used by companies to store and sharing data but they are some differences between them. You should select the right storage as per the actual condition.
Vinchin Backup & Recovery can help easily backup NAS and file server to prevent business data loss. Don't miss the free trial.
I agree that Vinchin can contact me by email to promote their products and services. I can unsubscribe at any time.
Thanks for subscribing! A confirmation mail has been sent to your mailbox, please check within 48 hours.
Get more ideas from Vinchin