News List
Vinchin has been awarded the MIIT ITSS Cloud Computing Service Standards - Private Cloud Level 3 Certification
Vinchin has been awarded the MIIT ITSS Cloud Computing Service Standards - Private Cloud Level 3 Certification
2017-07-08
Yesterday, Vinchin has been certified by MIIT (the Ministry of Industry and Information Technology, Republic of China) the ITSS《Cloud Computing Service Capability Standard Compliance Certificate》 - Private Cloud Level 3.
This certification has followed the MIIT 《 Cloud Computing Comprehensive Standardization System Guide》,《IT Cloud Computing & Service Operation Common Requirements》and other Chinese national standards, is the Chinese Cloud Computing Leading Standard. Besides Vinchin, Alibaba, Tencent and other Chinese leading cloud computing service companies also have been awarded this certification. It proves that Vinchin not only has the excellent ability to provide its backup products and services in cloud computing area, but also has the ability to do better as other Chinese leading companies.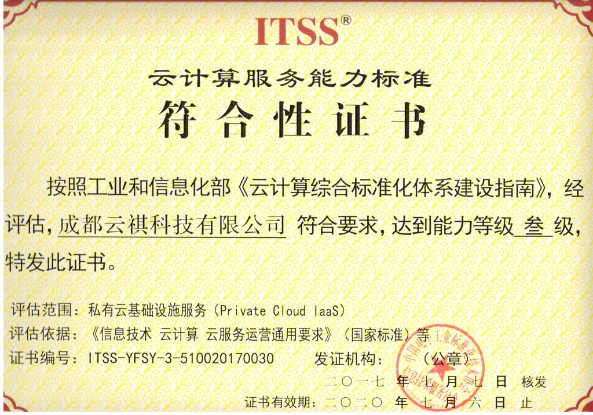 DOWNLOAD NOW
YOU CAN ENJOY A 60-DAYS FULL-FEATURED FREE TRIAL !