News List
Vinchin Backup & Recovery Praised as a Well-Designed Backup Software by a Leading Platform for Software Reviews
Vinchin Backup & Recovery Praised as a Well-Designed Backup Software by a Leading Platform for Software Reviews
2021-09-15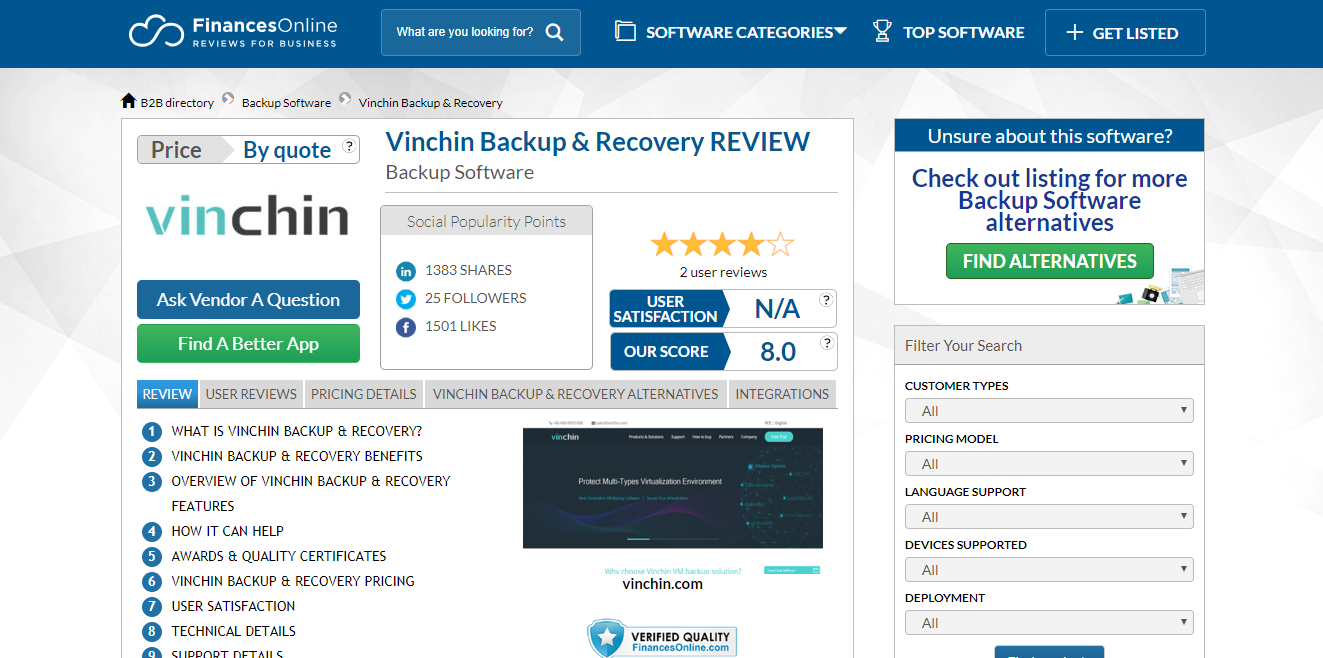 Popular software review platform, FinancesOnline, recently distinguished Vinchin Backup & Recovery with the Great User Experience award for 2018, indicating that our backup software is powerful yet simple and easy to use. This notable award is given to outstanding solutions across numerous categories, including the top backup software on the market.
For the FinancesOnline review team, Vinchin Backup & Recovery's "wide array" of vmware, xenserver, kvm backup solutions make it stand out against competitors, allowing us to rank on their top 15 backup software. Our Vinchin Backup & Recovery pricing plans are also cost-effective and highly beneficial for businesses that work with multiple virtualization solutions, stated the review team.
Other elements FinancesOnline took into account for their backup software research on Vinchin Backup & Recovery include the following:
Ø With Vinchin directly accessing the hypervisor to protect the VMs instead of eating away one's operating system's resources, users benefit from easy deployment and decreased operation workload.
Ø It is adaptive to your backup strategies, allowing you to schedule backups on a regular schedule and complete unfinished restoration tasks.
Ø Users benefit from non-consumption of LAN networks thanks to its LAN-free VM backup and restore functionality directly between backup server and production storages.
Ø It can hasten backup speeds with its speed acceleration solutions e.g. CBT/SpeedKit.
You can benefit from minimal business losses with its less than 2 minutes quick disaster recovery tools.
FinancesOnline also conducted a research on the perception of the market and users towards Vinchin Backup & Recovery, and the results were highly positive as we garnered their Rising Star award for 2018.
We would like to thank FinancesOnline for the positive review. We also thank our clients for supporting Vinchin. Positive remarks remarks like these help motivate our team to continue going the extra mile to improve our solutions, so don't forget to leave a user review on FinancesOnline to let us know what you think about Vinchin.
DOWNLOAD NOW
YOU CAN ENJOY A 60-DAYS FULL-FEATURED FREE TRIAL !