News List
New Feature in Vinchin Backup & Recovery v6.5: Cross-Platform Recovery Solution with #1 Compatibility
New Feature in Vinchin Backup & Recovery v6.5: Cross-Platform Recovery Solution with #1 Compatibility
2021-10-18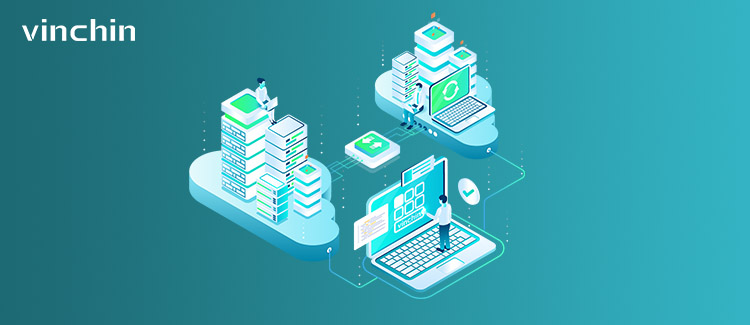 Easily restore virtual machines in different environments to protect your complex IT infrastructure.
For many companies, it is inevitable to deploy hybrid environments with multiple types of virtual platforms. It is extremely important to back up the critical business data and maintain the security of the system data. In actual work, it is often necessary to back up and restore VMs across platforms, and intuitive and flexible software is needed to help realize the process easily. However, data protection across virtual platforms has become a challenge, running a cross-platform environment also puts forward higher requirements for VM data backup and recovery. It requires that the backup data is also usable and recoverable across platforms.
Adapting to such improvement of modern IT infrastructure, V2V(Virtual-to-Virtual) technology has now been put into use widely for cross-platform recovery, which enhances the unlimited data protection operations across different virtual platforms. With V2V feature available in Vinchin Backup & Recovery v6.5, you can experience advanced cross-platform data protection performance and discover unparalleled ease of use, out-of-the-box deployment and extraordinary scalability.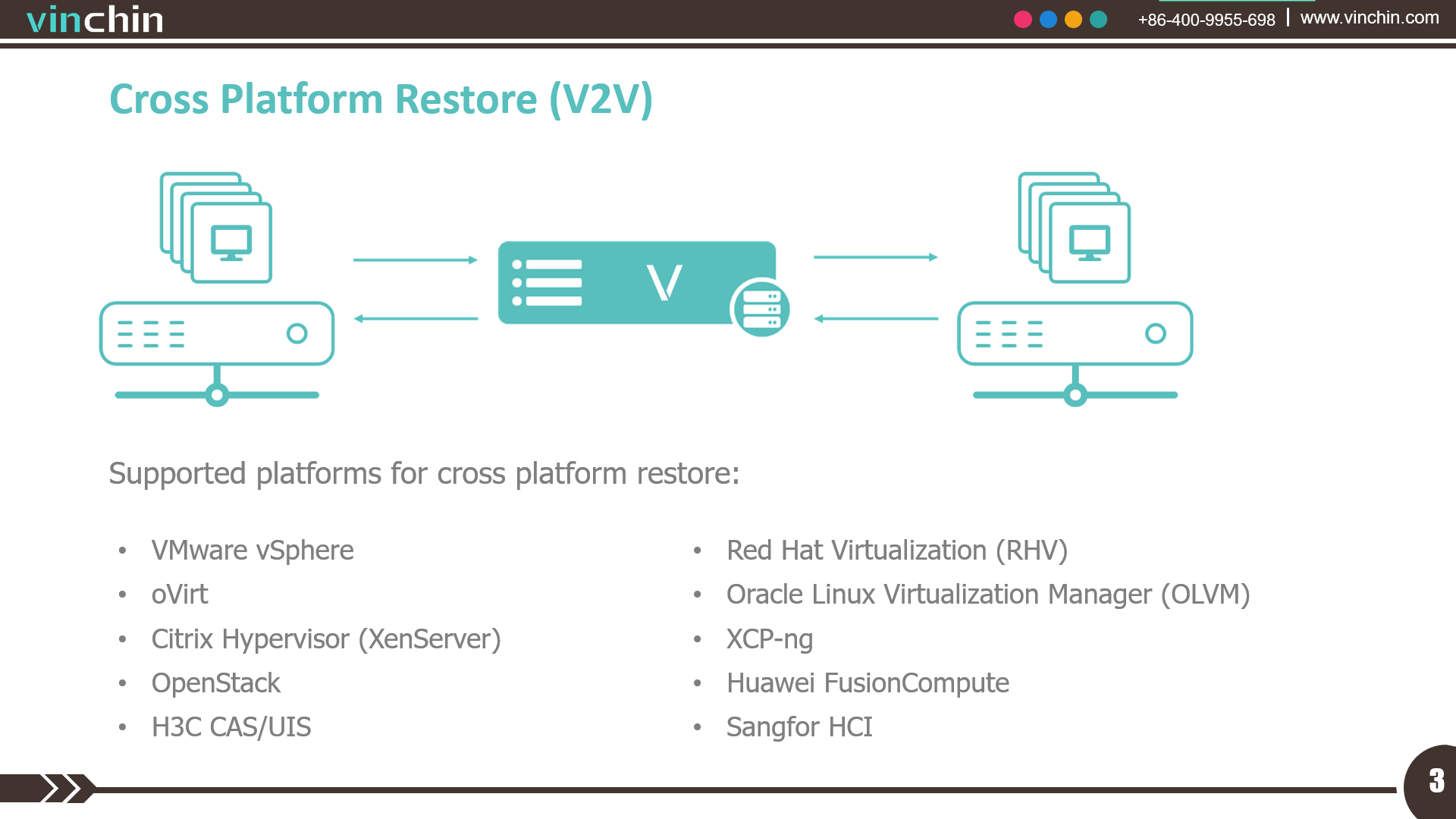 Only need to have initial backups for target workloads in hands, you are able to migrate those backup data from one platform to another easily using the cross-platform recovery feature from Vinchin Backup & Recovery v6.5, which performs seamless data recovery and migration functionalities across different virtual platforms.
Vinchin Backup & Recovery can match the existing and growing cross-platforms of the entire IT infrastructure and combine them well. Whether you aim to remove an existing virtual platform and migrate data to a new one, or just in need of switching across multiple virtual platforms, you can both rely on the cross-platform recovery (V2V) that Vinchin provides.
Enterprise data protection success depends on the ability to quickly perform data recovery in the event of unexpected data loss. Vinchin cross-platform recovery combined with instant recovery technology allows you to quickly restore any VM from one platform to another in 1 minute, fully display arbitrary and fast data recovery and migration in large hybrid environment, making complex IT infrastructure protection simpler than ever.
Why you need cross-platform backup and recovery?
The cross-platform recovery feature of Vinchin Backup & Recovery v6.5 is designed for enterprise users who use multiple virtualization platforms. With cross-platform recovery, you can seamlessly back up and restore VM data across multiple virtual platforms. When the data of a certain virtual machine is unavailable due to a disaster, or you need to switch from multiple platforms to a single-platform virtualization environment, cross-platform recovery plays a great role here. As its literal meaning, this is a feature that is capable of backing up data on different VM platforms and also restoring it on different platforms.
When you need to change the virtualization platform, cross-platform recovery will be an edge tool for you to quickly achieve business goals. Use Vinchin Backup & Recovery to back up critical data on different platforms and easily store data in different locations, and quickly restore it to your new virtualization platform when needed.
For you to back up critical data regularly for subsequent recovery on the same platform or on a different platform, Vinchin Backup & Recovery provides consistent, reliable, one-click backup and recovery for various environments without you being an expert. With the easy-to-use web interface Vinchin Backup & Recovery delivers, you can deploy VM backups in the shortest time and start your own business data protection easily. Vinchin Backup & Recovery v6.5 brings you the capability to pursue simple operations without compromising the performance of functionality, and updates the system in pursuit of higher scalability.
You can refer to our documentation guides to get started with Vinchin Backup & Recovery v6.5, and at the same time, our technicians are also willing to help you solve the problems you encounter at any time.
DOWNLOAD NOW
YOU CAN ENJOY A 60-DAYS FULL-FEATURED FREE TRIAL !