News List
Experience of the oVirt 2020 Online Conference: Meet Vinchin at Industry Events.
Experience of the oVirt 2020 Online Conference: Meet Vinchin at Industry Events.
2020-09-08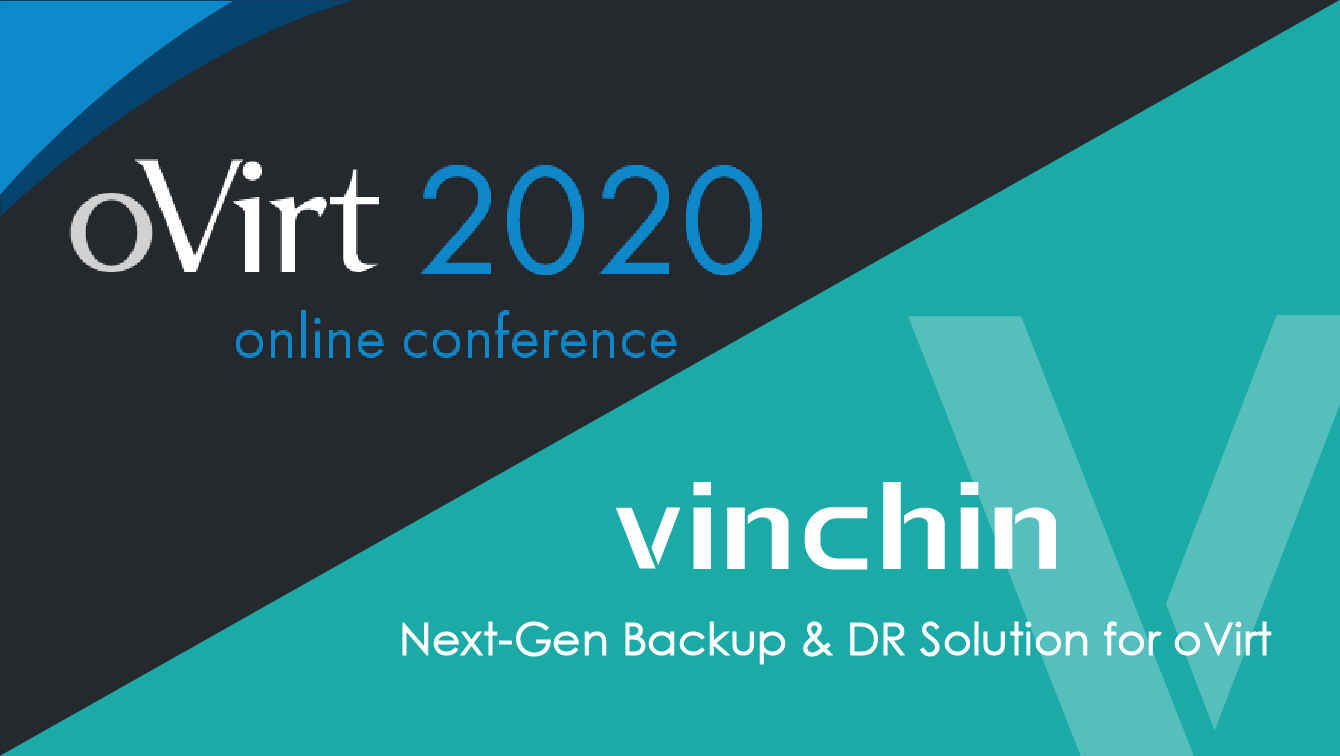 oVirt 2020 Online Conference, a fully-online experience on Sep 7, was an action-packed event for Vinchin. As oVirt has been integral to our solution form the get-go, the oVirt Conference is always an exciting time for us, particularly this year. We were not only showing up on the oVirt Community as the first backup provider officially recognized by the oVirt board in July, but also were honored to be invited as a presenter to bring some new backup and disaster recovery technologies to the conference. This is a remarkable time for the formal and closer integration of Vinchin and oVirt! We were excited to be part of the oVirt 2020 Online Conference, and congratulations on its successful conclusion.
Although each attendee may have different backdrops and comes from different countries, the live atmosphere was equally as inspiring. There were surprise announcements, thought-provoking keynote speeches, and unforgettable Live Call with the presenter.
The first presentation was made by Sandro Bonazzola, the oVirt community manager, also a SOFTWARE ENGINEERING for EMEA R&D RHV working at RedHat. Sandro introduced about oVirt and its community, gave the message to the community about the solidity and maturity of the project, including the oVirt board updates, the software - oVirt 4.4, and other stories about the community.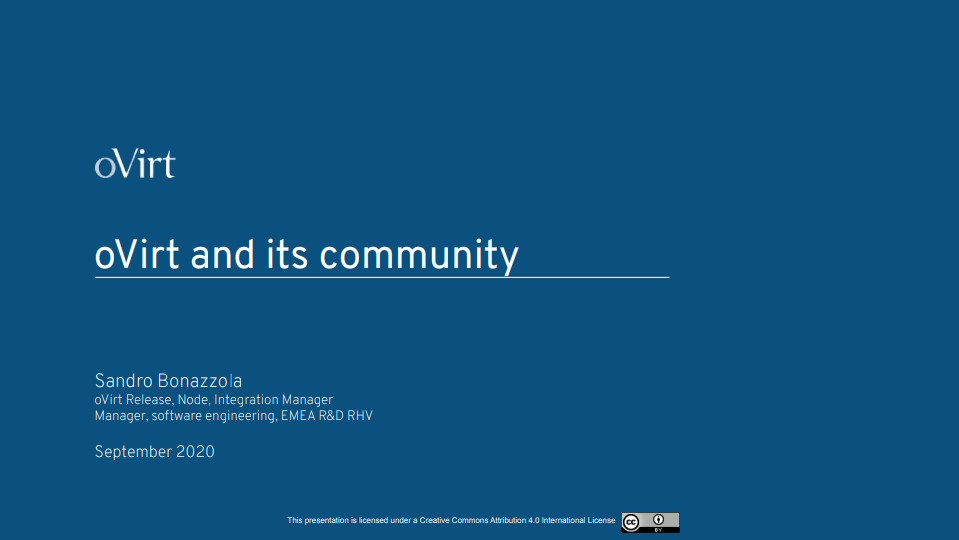 In addition to recent news about oVirt 4.4, we had a chance to meet online with amazing industry experts from RedHat, oVirt, and Oracle.
In the time with Vinchin on the Conference, Shall Ao, Vinchin sales director, as the presenter shared the Next-Gen Backup & DR Solution for oVirt. As enterprises continuously search for ways to leverage and unlock the new value of their data, IT teams face a new set of challenges. A surge in data silos, data growth, and multiple protection tools have increased complexity and risk for data protection. You may wonder how to help oVirt users modernize data protection and management across the on-prem, edge, and cloud environments with Vinchin. Shall Ao brought a series of new backup and recovery technologies to the oVirt users.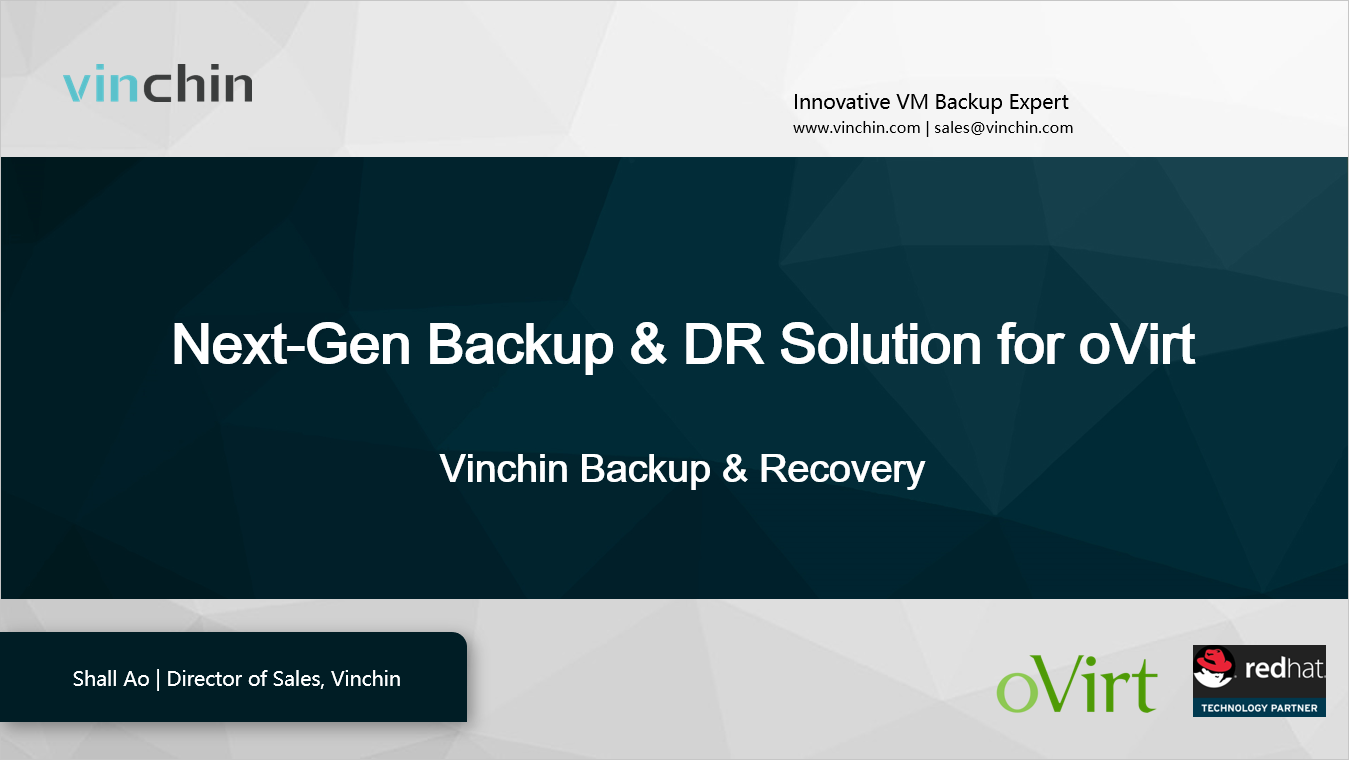 oVirt Backup & DR Architecture
Adopt an agentless mechanism to backup oVirt VMs directly from the hypervisor layer, hugely reduce deployment time. Use LAN-free data transfer to backup oVirt VMs from FC/iSCSI production storage. Quickly recover the business within a few minutes, minimize RTO to minute level.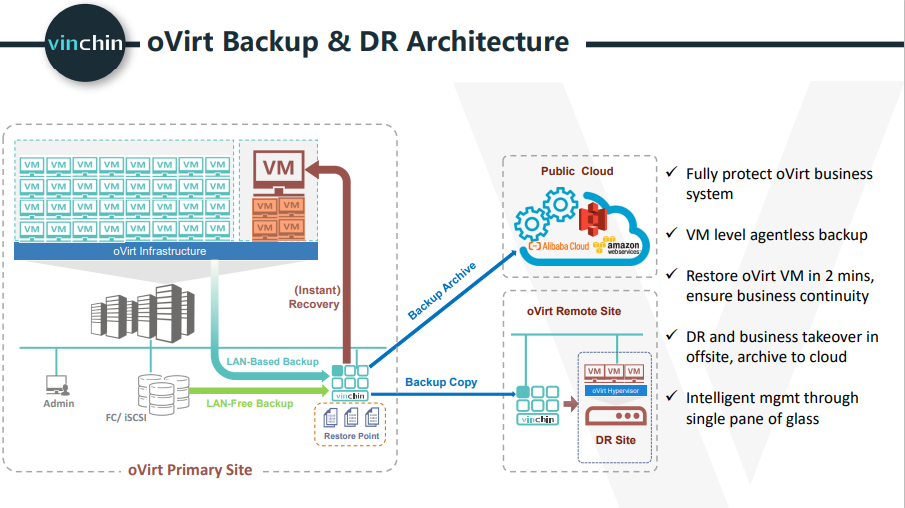 Scale-out Backup Architecture
In a large-scale business environment with multiple clusters, setting multiple backup nodes can help to distribute all business data and backup them to different storage simultaneously.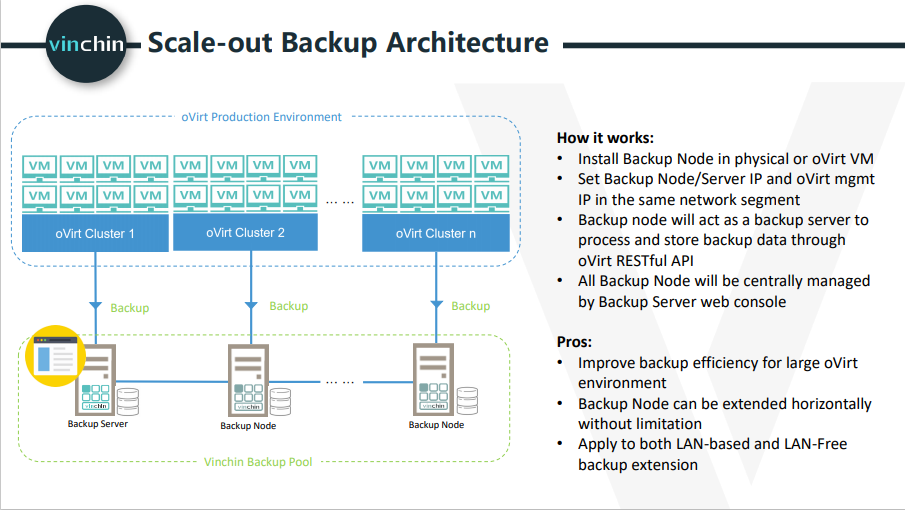 oVirt Incremental Backup Strategy
A new Vinchin self-developed function called SpeedKit, to better improve incremental backup speed for oVirt, quickly track changed data during an incremental backup.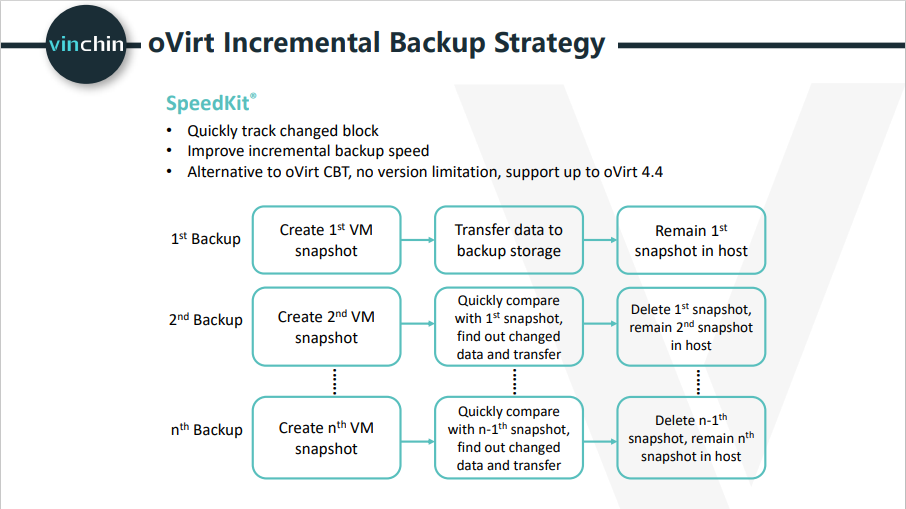 oVirt VM Instant Recovery
Independently developed Instant Recovery technology to allow oVirt users to immediately restore any size oVirt VM from any time point in a matter of minutes. Help minimize disruption and downtime of production workloads.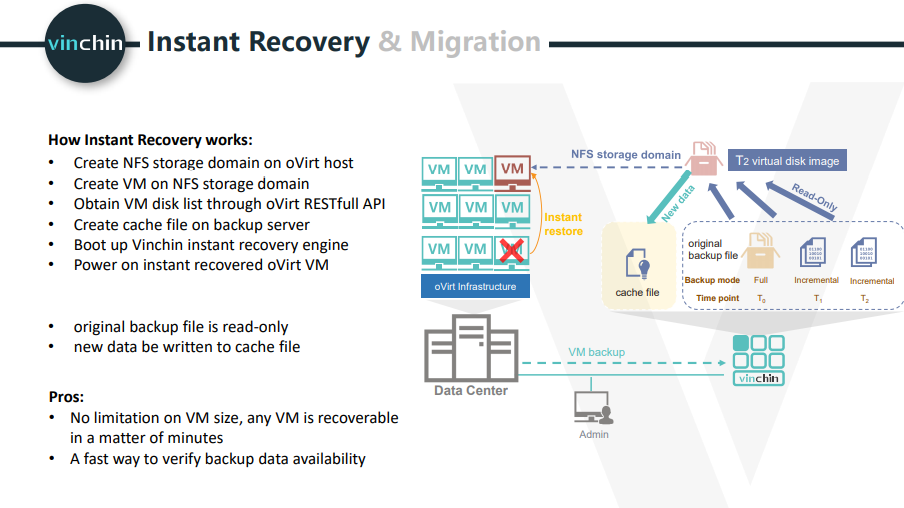 To watch the full Vinchin presentation recording, please visit: https://youtu.be/DDuRD33_XcI
Thanks to all of our customers, partners, and oVirt community members and visitors who joined in the oVirt 2020 Online Conference. We will keep working hard to develop newer backup and recovery technologies to oVirt users and look forward to seeing you in next year's oVirt conference!
DOWNLOAD NOW
YOU CAN ENJOY A 60-DAYS FULL-FEATURED FREE TRIAL !