Vinchin saves 4X backup time and simplifies operations for LEAG
Quick Overview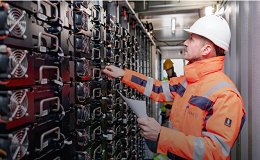 Country
Germany
Industry
Electricity production
Problems
Growing popularity of virtualization infrastructures raises new demands that also relate to data backup solutions, while LEAG's solution could not manage its virtual environment with the high efficiency.
Virtualization Type
Citrix Xenserver
Solution
With Vinchin Backup & Recovery, LEAG managed to improve its VM backup speed by 4X compared to the previous solution.

Growing popularity of virtualization infrastructures raises new demands that also relate to data backup solutions, while our solution is okay for the physical environment, it could not manage the virtual environment with the same efficiency. Therefore, we are searching for a solution that would meet both easy-to-use needs well as being able to effective and fast backup for large amount VMs. Finally Vinchin stands out!

Andy Kloe
IT manager of LEAG

---
Business Challenge
LEAG is the common brand of Lausitz Energie Verwaltungs GmbH, Lausitz Energie Bergbau AG and Lausitz Energie Kraftwerke AG, which was created in 2016 through the sale of the Lusatian lignite opencast mines and power plants of the Swedish energy group Vattenfall AB to the Czech EPH group and its financial partner PPF Investments. The companies based in Cottbus together form the second largest German electricity producer.
As of now, LEAG provides energy to millions of homes, industries and public life, with a goal to work from leading mining and power plant operators to innovative and diversified energy companies. "At the present we have about 7700 employees across our country and a large News Team in Berlin headquarters, there are approximately 50 Xenserver VMs in Berlin Data Center which are used to operate internal business applications, including the company's accounting process, a lot of News data and more, which shows these VMs must be protected at all times, as there are necessary for providing efficient service. In the event of any VMs failure for any reason, our normal business operations could be affected until these VMs are recovered. Thus, our requirements for VM backup solution is to protect our Xenserver VMs to ensure they must be available on our daily basis and their timely recover ability. " says Andy.
"With our previous backup product, we had to install agents on our Xenserver VMs, which means our IT team needs to install the same number of agents for those VMs when there are new added VM clusters to be protected, this was a time-consuming task. What made our IT team even more headache was the whole backup job management was complicated, while they are also not sure whether the data can be absolutely protected. So we figured that maybe it was time for us to look for a VM level backup solution with simplicity and high performance quality. " says Andy.
Vinchin Solution
"When I went outside to buy a cup of coffee, my co-worker has already installed the Vinchin Backup & Recovery successfully in our Xenserver VM. I asked him immediately, he explained his first experience with installation was intuitive, light and fast as the entire process did not require any agents to be installed in the VM. He was glad that we don't need to install amount of agents like before for accessing VMs." Andy says. Furthermore, Vinchin provides LEAG with full, incremental, differential VM backup that is much more convenient than their previous backup solution. "We can choose any of the three backup methods according to the actual situation at that time. Our current backup strategy is running a full VM backup Job once a week and incremental backup every day that can be completed in under 30 minutes, which is at least 4 times faster than before." says Andy.
"When I saw the Vinchin Web Console for the first time, I knew that the management would be extremely easy for me, as all configurations can be done on it and all Job progress, storage space and others are clear at a glance. Beyond that, for us Recovery strategy is one of the best features of Vinchin Backup & Recovery, because not only can we recover entire VMs instantly when disaster occurs, but we are also able to recover individual files from VM backups without restoring entire VM. When my co-workers require the recovery of specific files, they can simply select what they need on Vinchin Web Console, in just a couple of minutes the target files are recovered." says Andy.
Result
After two weeks of testing, LEAG purchased Vinchin Backup & Recovery to protect their XenServer environment because of the product's ease-of-use and reliable. "With Vinchin Backup & Recovery, we managed to improve our VM backup speed by 4X compared to our previous solution. I also had doubts regarding the safety of that data was backed up so fast with Vinchin backup product at the beginning, but we tested it for two weeks results it's a really stable and reliable product. We got zero bug during our usage of Vinchin so far." says Andy.
DOWNLOAD NOW
YOU CAN ENJOY A 60-DAYS FULL-FEATURED FREE TRIAL !