Vinchin Blog
How to Backup Xenserver VM with Vinchin Backup & Recovery.
How to Backup Xenserver VM with Vinchin Backup & Recovery.
2020-10-23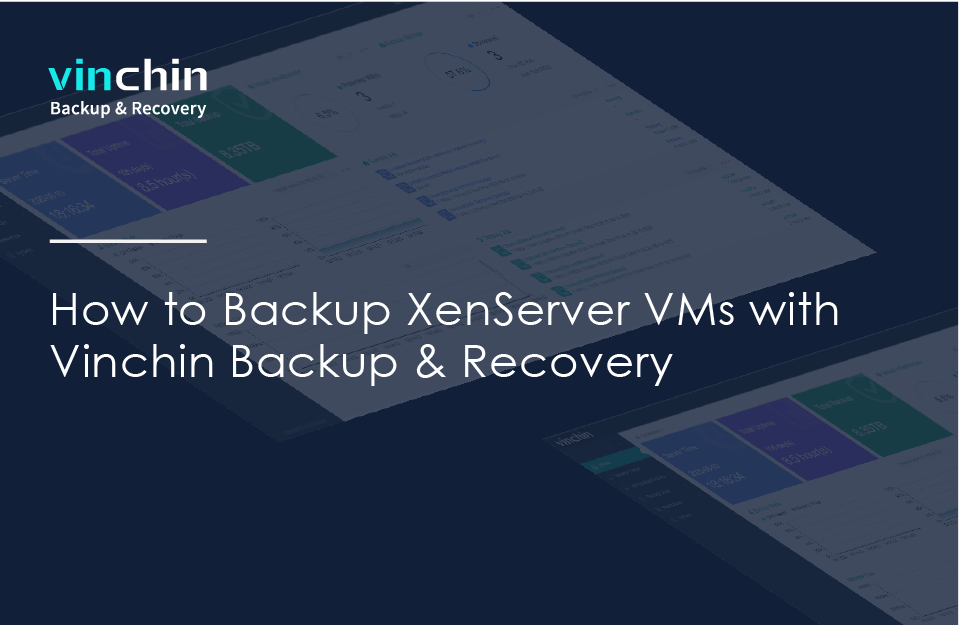 In this chapter, I will be showing you how to backup Xenserver VM with Vinchin Backup & Recovery. Let's get started.
First, I will go to the VM Backup module and then click Backup. The first step in a new backup job would be to select a target VM that I would like to include in this backup job. So on the left box first shows me the virtual infrastructures under the Hosts & Clusters category. Besides, in the drop-down menu, I can also select different views like VMs and templates, then all I see is the virtual machine. Another option is to go to the search bar to type in words related to the target VM. After then all the selected VMs will be displayed in the right box. Click the VM's name, shows me the specific hard disk in this VM. I have the option to choose whether to exclude them or not.


Let's go ahead and select next.
In this step, I will be selecting a backup repository to store the selected VMs. In the drop-down, I will see the multiple options for different repositories. Usually, storage with more free space is recommended. Here I am gonna leave the local disk 1, and then move on to the next option.

Here we need to configure all features shown below one by one. But, if I have pre-configured these features and have created a new template in the Strategy page of the Resource menu, I have the option to find it directly from the drop-down list to complete this step.

Now Let's quickly go through all the functions in order.
The first one is the time strategy. Run this job as scheduled or only once. If I select backup as scheduled mode, three backup modes are displayed: Full backup, Incremental backup, and Differential backup. I can check any one or two of the three-box, but not both Incremental and Differential backup. If only check the incremental backup box, it is the forever-incremental backup mode. Under this mode, this job will perform full backup for the first time and then perform incremental backup forever to save the backup time. Right now I will check full backup and incremental backup box as an example.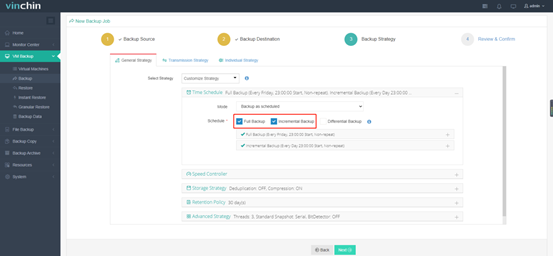 Next is to set a time strategy based on the backup modes I just selected for this job. We have three types: every day, every week, every month. It is pretty simple to understand as you can see. If I wanna repeat this job, enable the repeat feature and then set the repeat interval and when to end the repeat. If there is new data generated every day, it is recommended to perform incremental backup every day and full backup once a week.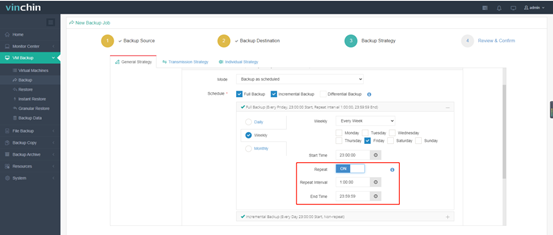 Let's keep going down to set up the Speed Controller.
If I want this job not to take up too much network bandwidth of the production environment at some specific time, I can control it's speed here. Click Add, on this page I have the option to select limit as scheduled or perpetual limit. Then set an upper limit for the running speed. In this example, I will keep 10 MB/s, and click OK.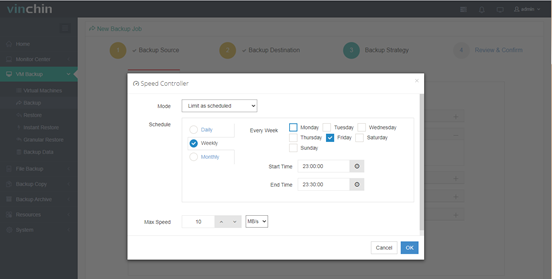 Next comes the storage strategy. Deduplication and compression. If you have no idea how to configure, just follow the default settings.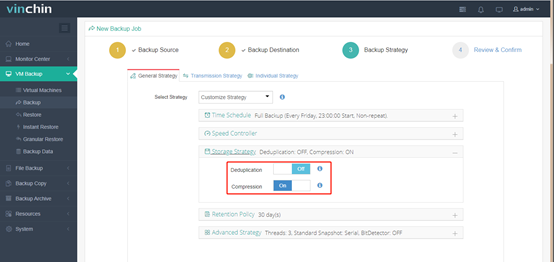 Then it's retention policy. We have two retention modes, the number of restore points and the number of days. If I select a number of restore points, and then keep 30 restore points. In this situation the backups exceeded 30 restore points in storage will be auto-deleted. By the way, our retention policy for the Xenserver platform is based on each single restore point no matter its full point or incremental, differential point.

Now let's go to the advanced strategy.
First, I need to select serial or parallel as the snapshot mode of this backup job. If there is no business relationship between VMs, the serial mode is recommended. The backup server will take snapshots of all virtual machines one by one and complete transfer in order. Instead, if there is a business relationship between VMs and which requires all snapshots to be strictly some consistent, parallel is the best choice. Under this mode, the backup server will take snapshots of all virtual machines concurrently and then complete the transfer in turn.

If I select serial mode, then we have a new technology called "Create snapshot in advance", which means the backup server can take the snapshot of the next target VM during the data transfer of the current VM. In this way the backup time can be further shortened.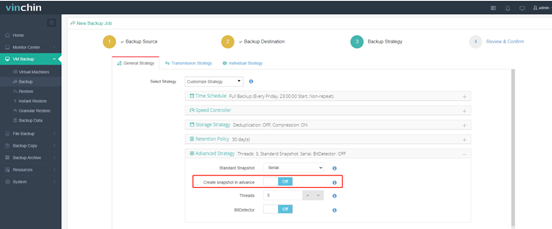 This is the multi-threading function. Here I need to set the number of threads during data transmission. If you have no idea how many threads are suitable for your environment, it is recommended to keep the default value for the first time, and later make the adjustment based on your environment.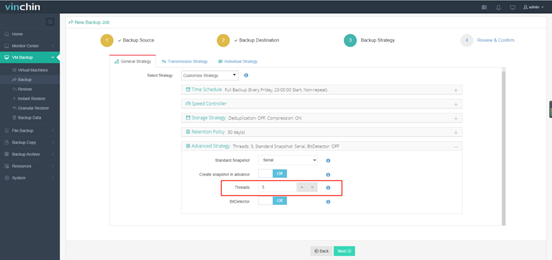 The last one is the Bitdetector function, which is also a Vinchin technology that is used to skip the unnecessary data including swap files and unpartitioned space when doing the backup. Enabling this feature can further reduce the backup data size from the source and reduce the network load.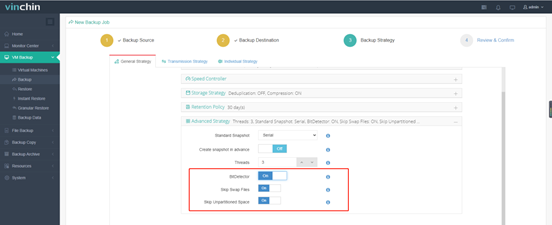 From here, let's go to the transport mode configuration.
In the drop-down, there are two options for transport mode including LAN and SAN. In this example, I will be selecting LAN as the transmission network of this job. Then choose to whether to enable data encryption for transmission in LAN mode.

Let's go ahead and go to the Individual strategy.
In this step, I need to configure the incremental mode. There are three modes: Speedkit, CBT, and ordinary. If you need a faster backup meanwhile Xenserver CBT cannot work, Speedkit is a good choice. Speedkit is a Vinchin technology to improve the computing speed of changed blocks when doing incremental backups. But, with this function, a snapshot of each VM will remain in the production storage after backup. So, please make sure that your storage space is large enough if you select this mode.

Now click Next to go to the review page where I can confirm all configurations. And I have the option to give this backup job a unique name. Click submit to complete this backup job creation.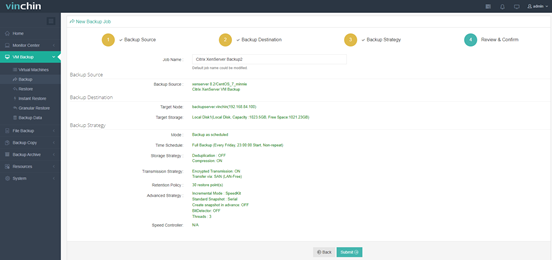 This is the backup job I just created. Click this button, shows me the schedule and retention policy of this job. Then as an example, I will start this job manually and click the job name to go to the job details page.


On the job details page, I can clearly check the progress of this job. And on the top right, not only the basic info of this job but also the strategies I just configured for this job have been displayed.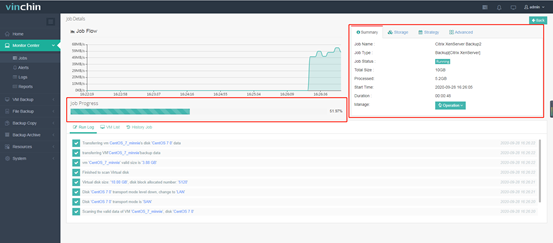 Below is the Run log of this job, I can see that each step is carried out in order. It is a great place to make sure that everything is functioning properly or if you have any errors.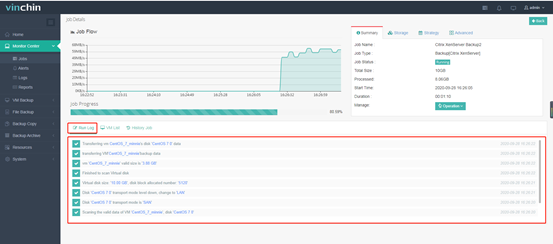 And here is the VM list, where shows me all the VMs included in this job including their total size, data size, transfer size, written size, and other details. After this backup job is completed, I also have the option to check the target VM box, then click the above "Operation" button, in the drop-down menu choose the backup modes. At this time this job will be performed at once for the selected VMs.
Then let's go to the history job. Here I can see how many times this backup job has been performed before, success or not. Click this button, the specific VM info in this job will also be shown here. Now let's analyze these data, data size is 7.04GB, and the written size is 954.94MB, which shows the data size has been significantly reduced by our compression feature.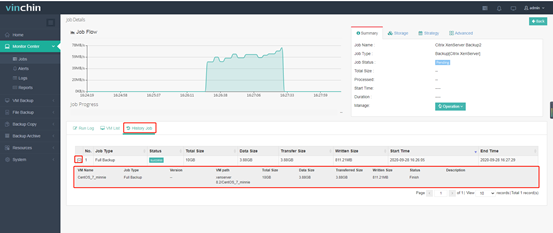 That's all for today! Thank you!
DOWNLOAD NOW
YOU CAN ENJOY A 60-DAYS FULL-FEATURED FREE TRIAL !